Hollywood Palladium | Los Angeles, California
Get ready for an incredible night of music as Hot Chip descends on the Hollywood Palladium on September 28th, 2023 with an amazing show that will ignite all of your senses. This iconic British synth-pop band has woven a rich tapestry of music since the turn of the millennium, blending genres to create their own unique sound that resonates with a global audience. The vibrant Hollywood Palladium, known for its magnificent acoustics, is the perfect stage for the band's mesmerizing performance, providing an atmosphere sure to intensify the magic of their music. The event guarantees a thrilling journey into the heart of Hot Chip's musical prowess, as they promise to deliver an unforgettable evening charged with infectious tunes and evocative lyrics. Don't miss this opportunity to witness Hot Chip's dynamic talent live. Book your tickets now for a music experience that will stir your soul and captivate your senses.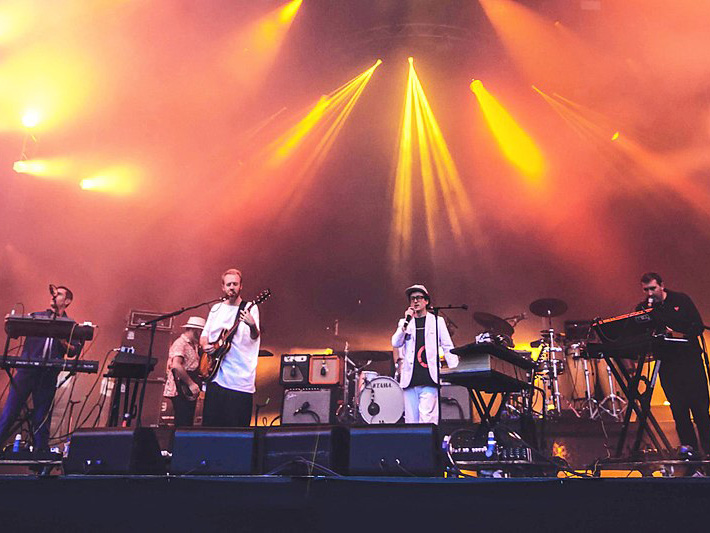 Ready yourselves for a spellbinding night as the remarkable British ensemble, Hot Chip, takes center stage at the Hollywood Palladium on September 28th, 2023. This dynamic London-based collective, a beacon in the synth-pop realm, has spent a prolific two decades captivating global fans with their vibrant style and cutting-edge rhythms.
The ensemble's creative engine comprises Alexis Taylor, Joe Goddard, Al Doyle, Owen Clarke, and Felix Martin, who have remained constant since the dawn of Hot Chip in 2000. Demonstrating their creative flair by melding elements from synth-pop, indie dance, and alternative R&B, they've concocted a soundscape that breaks the mold and mesmerizes listeners far and wide. Chart-busting singles like Over and Over and Ready for the Floor encapsulate their unique sonic identity, striking a chord with fans and music critics alike.
Their applauded 2019 release, A Bath Full of Ecstasy, mirrors Hot Chip's musical evolution and artistic depth. This album is a showcase of profound lyrical wisdom intertwined with elaborate electronic orchestrations. Such bold strokes in the musical canvas have led them to be recognized by the esteemed Grammy and Mercury Prize nominations, further solidifying their position in the industry's echelons.
The iconic Hollywood Palladium, famed for its superb acoustics and illustrious history, will reverberate with Hot Chip's pulsating rhythms, promising an unforgettable evening of musical exploration. Here, every note they play will wrap around you, taking you on a captivating odyssey through sound.
This concert provides a golden opportunity to behold the magnetic charisma of Hot Chip live on stage, a band revered for forming deep connections with a diverse audience. Don't hesitate to secure your tickets for an evening brimming with heart-thumping melodies and engaging performances. As the curtain rises on the evening of Thursday, September 28th, 2023, get ready to be swept away on an exceptional musical journey that will ignite your senses and resonate deeply within your soul. Anticipate a night that will linger long in memory at the Hollywood Palladium, as Hot Chip's unique creative prowess and musical mastery come to life.