Hollywood Palladium | Los Angeles, California
The rising alt-rock stars, The Backseat Lovers, shook the scene for their mature and seasoned sound, making rounds back in 2019 with their hit single "Kilby Girl" off of their debut record. Attracting a large following for their unique and striking artistry, the band has taken it to the next level through their new sophomore album, "Waiting to Spill". Described as "life-affirming alt-rock" by NME, the band is taking their new record to the global stage on the Waiting To Spill World Tour this new year. The tour includes an electrifying show at Hollywood Palladium on Wednesday, 26th of April 2023. Big surprises are in store, so don't miss out by booking those tickets now!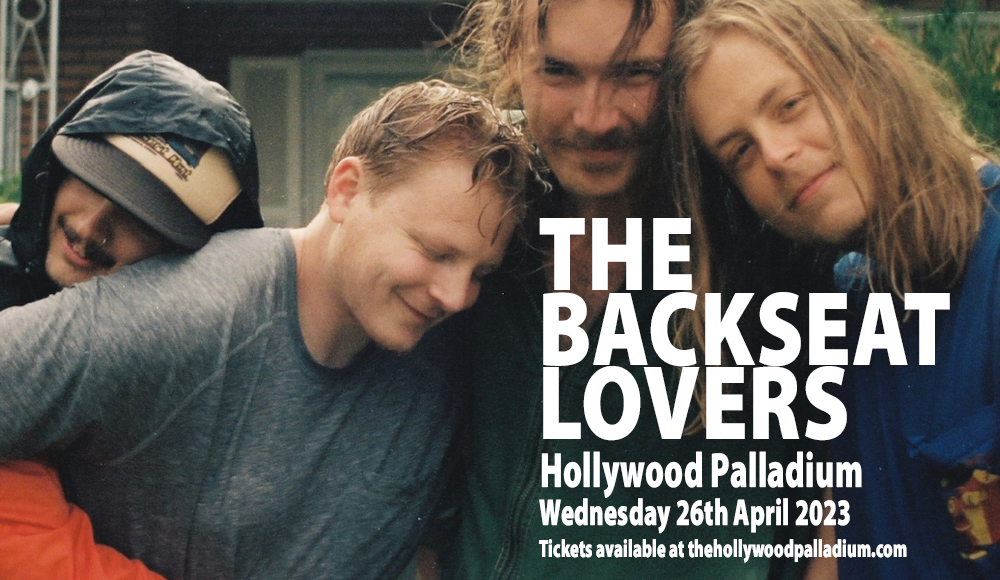 Formed in 2018, The Backseat Lovers took the indie alt-rock scene by surprise for their seasoned sound, though its members are "barely old enough to drive" as described by Third Coast Review. Winning a 'battle of the bands' contest after their formation, the band took to heart their passion and artistry. They released their first EP "Elevator Days" in June of 2018 and dropped their debut album "When We Were Friends" a year later. They won the crowd for their strikingly rockin' hit single "Kilby Girl".
Dropping their new album "Waiting to Spill" out in the airwaves, The Backseat Lovers have caught the attention of new listeners and critics alike, receiving praise for their mature and seasoned sound, surprising for a young indie act on the rise. The new record features their newest singles "Growing/Dying", "Close Your Eyes", and "Slowing Down".
"their new album Waiting To Spill doesn't sound like something a bunch of teenagers dreamt up, instead standing as a pretty remarkable artistic effort" said Jim Kopeny of Third Coast Review in a review of the band's new LP.
As they embark on a headlining world tour, NME hails that the "life-affirming alt-rock" band is "meant for the world stage". After an intimate show in London at Omeara, the band shares their love for live shows, especially when the crowd shouts back every single lyric.
"I personally love playing intimate venues like [Omeara], so it was really exciting to be able to do that again in London," bassist KJ Ward told NME. "Our first tour was basements of houses and smaller clubs, so it's very nostalgic to go back to [our] roots and play a venue like that."
"We all kind of prefer it – just so we can get to know the fans a little more." added band drummer Juice Welch.
Living in a daydream with their hard-hitting anthems, The Backseat Lovers was taken by surprise as the crowd shouted back and sung along every lyric to their songs, they almost couldn't even hear themselves anymore. "It's a very beautiful thing. It's kind of hard to put into words." Joshua shares in an interview with NME. "It's just fun to be in one space as a group and be collectively in the moment, and having a good time all together." added Juice.
As the boys gear up for a big tour this coming 2023, make sure you've got every lyric stuck in your head, ready to shout it back at the Waiting To Spill World Tour. Book your tickets now!