Hollywood Palladium | Los Angeles, California
It's time for a whirlwind of music as Tiger Army brings their distinctive blend of punk rock and psychobilly to the legendary Hollywood Palladium on Friday, 27th October 2023. From their inception in 1996, this band, fronted by the enigmatic Nick 13, has been electrifying audiences with their dynamic performances. Their potent cocktail of punk, rockabilly, and dark romanticism promises a show that'll resonate long after the final chord. The chance to witness Tiger Army live, as they set the Palladium ablaze with their infectious energy and dynamic rhythms, is an opportunity you can't afford to miss. Grab your tickets before they vanish, ready to join the group of fans entranced by Tiger Army's compelling melodies. This event will ignite conversations among your friends, so don't be the only one with nothing to say. Mark your calendar for a rocking concert experience you won't want to miss with Tiger Army!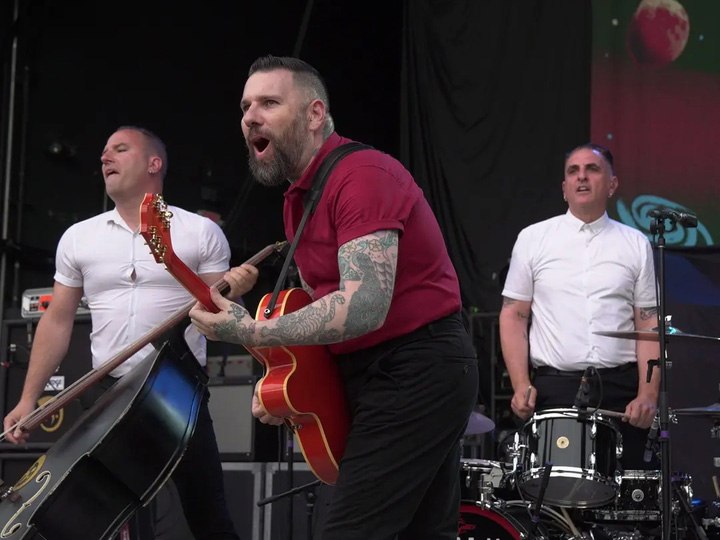 From the punk-rich roots of Berkeley, California, Tiger Army has been setting the music world ablaze since 1996, with their intoxicating mix of punk rock and psychobilly. The dynamism of the band, fueled by lead vocalist and guitarist Nick 13, stand-up bassist Djordje Stijepovic, and drummer Mike Fasano, is an invigorating force that has carved a unique sonic niche for Tiger Army's devoted followers.
In 1999, Tiger Army's debut album heralded a fresh chapter of psychobilly, catapulting them to global recognition. Their latest offering, Retrofuture, is evidence of their constantly evolving sound, seamlessly weaving their punk origins with surf rock and new wave. Chart-topping Billboard rankings and soundtracks in popular video games are a testament to their diverse appeal amongst music fans.
Tiger Army's kinetic shows and Nick 13's emotive lyrics have garnered a faithful fanbase, securing them slots in esteemed music festivals like the prestigious Coachella. Famous for their exhilarating on-stage presence, Tiger Army has a knack for stirring crowds with their captivating rhythms and poignant lyrics.
Prepare to be swept up in the psychobilly uprising as Tiger Army storms the legendary Hollywood Palladium stage on Friday, 27th October 2023. Brace yourself for a night punctuated by throbbing beats, high-voltage performances, and an atmosphere that will linger in your memory long after the show ends. With the magnetism of Nick 13 at the helm, this event promises to be the kind of concert experience you remember for a lifetime.
Don't let this chance to witness the electrifying Tiger Army performance slip through your fingers. As a band unafraid to push the envelope and continually experiment with their sound, every show is a unique encounter. Make sure to save the date and get your tickets for an electrifying evening of music that will echo in your conversations for days to come. Tiger Army is primed to set the Hollywood Palladium ablaze, leaving you craving more. Be part of this exhilarating narrative, or risk missing out on an incredible night everyone will be talking about!