Hollywood Palladium | Los Angeles, California
British trip hop innovators Massive Attack are headed to Hollywood Palladium on Tuesday 3rd September 2019 for a very special three-night-run celebrating the 21st anniversary of the release of their seminal 1998 album Mezzanine! According to 3D (aka Robert Del Naja), the show will be "a one off piece of work; our own personalized nostalgia nightmare head trip," that re-imagines the iconic album with the help of audio and visual trickery and guest vocalist Elizabeth Fraser of Cocteau Twins, who featured on the iconic record!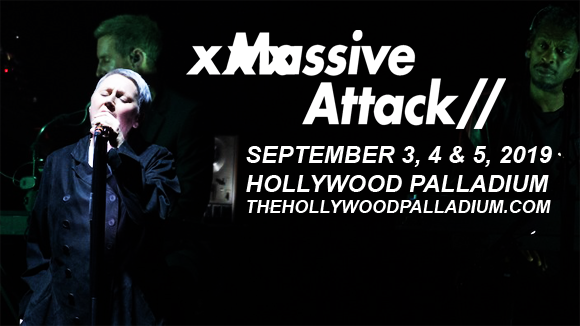 Consisting of Robert "3D" Del Naja, Grant "Daddy G" Marshall and formerly Andy "Mushroom" Vowles ("Mush"), Massive Attack is a British trip hop group formed in Bristol, England in 1988. Known for its distinctive sound, which mixed elements of hip hop, psychedelia and electronica, the group released its debut album, Blue Lines, in 1991, launching the single "Unfinished Sympathy", which went on to be voted the 10th greatest song of all time in a poll by British newspaper The Guardian. Both Blue Lines and their following album, Mezzanine (1998), feature in Rolling Stone's list of the 500 Greatest Albums of All Time. Mezzanine charted at number one in the UK, as did their third studio album, 100th Window (2003). To date, the group has released five studio albums, selling over 11 million copies worldwide.