Hollywood Palladium | Los Angeles, California
Get ready for a night of raw emotion and stirring tunes. Movements, a unique blend of alternative rock and potent post-hardcore, will seize the stage at the Hollywood Palladium on September 7th, 2023. This is not just a performance; it's an experience, a plunge into the depths of heartfelt music.
Movements has won hearts worldwide, thanks to their deeply introspective lyrics and strikingly authentic sound. Their songs aren't just melodies; they're narratives that vibrate with audiences, striking chords of shared experiences.
On September 7th, 2023, join Movements at the Hollywood Palladium. It's more than a concert – it's a transformation, a shared journey guided by the band's soul-resonating tunes. You don't want to miss this extraordinary musical event. Immerse yourself and let the experience leave its enduring imprint on your soul.
Experience Movements' compelling talent firsthand, a communion with music that delves deep. Grab your tickets today. Let's celebrate the power of sincere expression and cathartic harmonies together.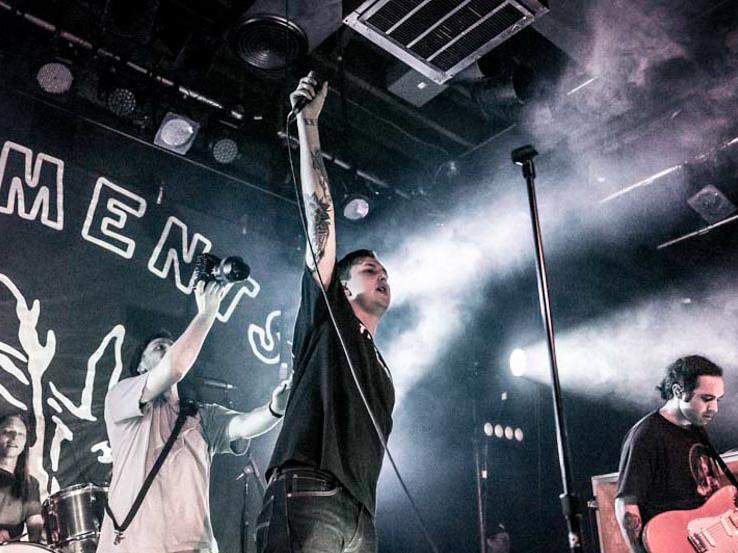 Get ready for an exhilarating experience on September 7th, 2023, as Movements prepares to rock the iconic Hollywood Palladium. The air is palpable with excitement as fans anticipate a performance that promises to resonate deep within their souls, leaving them with lifelong memories.
Emerging from the rich and diverse music scene of California, Movements has etched its unique sound into the hearts of their ever-growing fan base. Their music is a soulful blend of alternative rock and post-hardcore that creates a cathartic experience, shaking the boundaries of conventional genres and enveloping the audience in a powerful sonic embrace.
Their critically acclaimed debut album, Feel Something, pushed Movements into the limelight. Lauded for their introspective lyrics, paired with stirring melodies, the band quickly gained a devoted following. The album didn't merely strike a chord, it resonated deeply, cementing their spot as an important rising artist to watch.
Over the years, Movements have shared the stage with numerous prominent artists, captivating global audiences with their electrifying live performances. Each show is a testament to their dynamic energy and raw, emotive power, transforming each concert into an unforgettable experience.
The Hollywood Palladium, a historic venue renowned for its impeccable acoustics, provides the perfect backdrop for Movements' compelling performance. As the band's profound melodies fill the hall, audiences will be completely immersed, swept up in the surge of emotion and musicality.
This is your golden opportunity to witness Movements' undeniable talent firsthand. Get your tickets now for an evening celebrating the raw power of emotional expression and cathartic melodies. This isn't just a concert – it's a profound connection waiting to unfold between you and the music.
The date is set: September 7th, 2023. The Hollywood Palladium will play host to the magic of Movements. Let their music permeate your senses, enveloping you in an evening marked by shared emotions, transformative energy, and potent lyrics. This extraordinary event promises to leave an enduring mark on your heart, making it a musical journey you won't want to miss.