Hollywood Palladium | Los Angeles, California
When a band has made a name for themselves through gigs and touring, and created a buzz among music afficionados via the internet, one thing's for sure — they're making absolutely great music!  Rebelution is now leaving imprints of their music, and a steady stream of fans have been following their tracks.  Being one of the most in-demand indie touring bands around, Rebulution is now embarking on their Winter Green Tour.   Beat the freezing cold with Rebelution's piping-hot world-reggae beats, on their one-night show at The Hollywood  Palladium on the 31st of December 2012.  Show starts at 9:00 pm.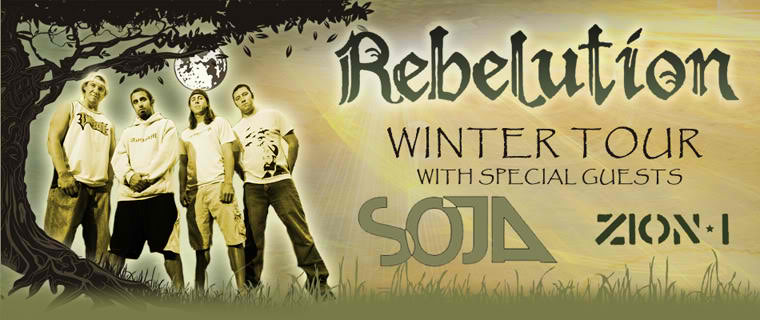 Rebelution is one of the indie breakthrough bands that figured prominently among fans of grassroots, world beat, rock, and reggae genre.  Formed in 2004, with members originating from Santa Barbara, California, the current members of Rebelution are Eric Rachmany, Rory Carey, Wesley Finley, Marley D Williams, and Khris Royal. They continuously and extensively played gigs from 2004 to 2005, which steadily built their momentum and reputation as a tight, solid band.  Their growing popularity prompted them to release their first EP, which then progressed to a full album release entitled "Courage to Grow" in June 2007.  The album reached significant mainstream consciousness when it gained heavy airplay in stations such as San Francisco's Live 105 where their single "Safe and Sound" was played on heavy rotation.  iTunes picked the album as the 'Editor's Choice' for Best Reggae Album of 2007; and  peaked at No. 4 on the Billboard Top Reggae Albums chart.  This year,  the latest album "Peace of Mind" debuted at #13 on the Billboard Top 200, #1 Reggae and #1 Independent albums as well as #4 on the iTunes overall album chart.
You say you want a revolution?  Free your mind and explore!  Let your spirit and your senses soar and chill-out with the music of Rebelution.  In this cold winter season, catch this music heatwave!  Get out there and buy your tickets now!