Hollywood Palladium | Los Angeles, California
The NBHD are coming back home to California this October! Be at the Hollywood Palladium on Wednesday the 30th October 2013 at 7:00pm to see the talent rise to the stage!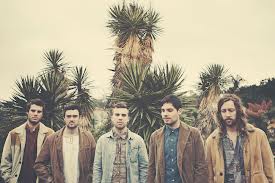 Feel the lyrics in The Neighbourhood's music, as they combine alternative rock instrumentals, R&B and hip hop into one beautiful harmonious sound. The band is well known for their 50's style artwork video's and black & white imagery. Their first introduction to the public was online in 2012, with the track 'female robbery'. As a relatively new band, they are rising up to stardom from what seems like nowhere bringing the US a top 10 hit album, 'I Love You', as their first full album release and have recently toured with Imagine Dragons! The five boys formed in 2011 and are headed by 21 year old singer Jesse Rutherford. The friends are illusive online and in advertising… They are surrounded by a mystery of wonder about who they really are, not having given many interviews and having a minimalistic website. One thing is for sure though… they are artists both musically and visually, talented and definitely going places!
Listening out for the sound of something new? We've found it… get your ticket before they sell out!