Hollywood Palladium | Los Angeles, California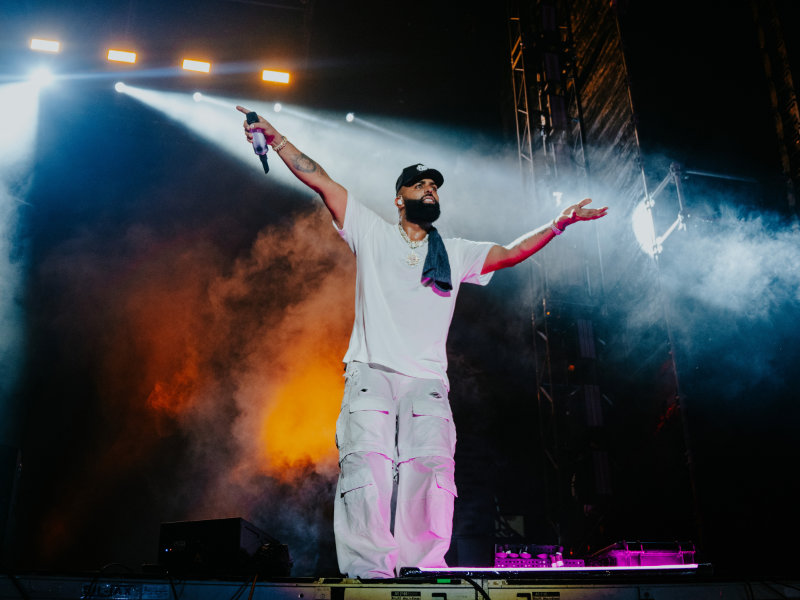 The Latin Grammy-nominated trapero star Eladio Carrion is back at it again for the second leg of his "The Sauce" tour. Getting the trek heated up will be the first part at Chicago's outstanding Aaragon Ball on October 7th, and it moves through major locations including NYC and LA before closing out at Miami's Majestic FPL Solar Amphitheatre on November 11th. Right here and now, you can score your tickets for the Hollywood Palladium part of the thrillfest on Saturday, October 28, 2023. This one is going to be an absolute banger and nobody is going to want to miss out. Grabbing 'em fast is a must as they won't be around for long, after all, Carrion is the genre's hottest talent right now. With the ultimate hits collection and swagga that is unparalleled, you will witness the best of the best. So without delaying a single second, hit that "GET TICKETS" button located above.
Eladio Carrion is the bastian for urbano Latin music and he has just proven himself by selling out the first part of "The Sauce" tour. Not only that he made his debut at Coachella and SXSW earlier this year. Plus with magnificent appearance at the 2023 New York Governors Ball he is all set to make this tour a truly remarkable occasion. Let's not forget his music festival, "The Sauce Boyz Fest," which featured the who's who of the industry such as Bad Bunny, Myke Towers, Tokischa as well as a surprise entracne from Lil Wayne.
The Kansa City born figure, started off his competitive journey in sports, namely swimming. The dude was so good that he represented Peurto Rico at the 2010 Central American and Caribbean Games as well as the 2011 Pan American Games bu later in 2012 he quit sports to pursue a different path.
He went down the route as a social media influencer. Using various platforms, he would post comedy videos which helped him build a following. Realizing an opportunity, he tried his hand at music and boy are we happy he did. His first release came in 2015 called "2x2" and then "No Quiero Más Amigos Nuevos." The tracks helped to get recognized as a venerable figure in the music industry. In 2016 he dropped two club smash hits, "Súbelo" and "Si Te Vas, Vete," which further elevated his profile.
Pushing hard, 2020 saw his debut studio album, "Sauce Boyz as well as "Sauce Boyz Care Package" in the same year followed up with "Monarca" in 2021. The next project was the game changer because "Sauce Boyz 2" also released in 2021 saw chart success claiming Billboard's 200 92 position. His latest release earlier this year "3men2 Kbrn" shot up to number 16 on the same chart.
The new album will also be the main feature on the current tour, which is a track listing of some of the hottest trappero songs. Plus, with a featured artist list on the album that reads like a hip-hop royalty list with the likes of Future, Lil Wayne, Myke Towers, Quavo and 50 cent, you can expect some serious sizzlin' vibez.