Hollywood Palladium | Los Angeles, California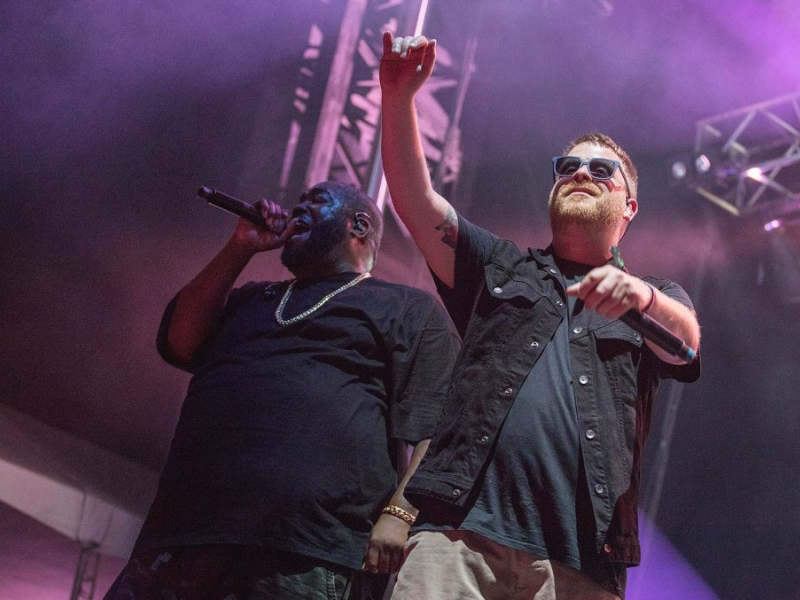 Run the Jewels are back to celebrate their decade-long career with RTJX – Celebrating 10 Years of Run The Jewels! The hip-hop super duo - composed of Killer Mike and EL-P - are
making their way to the Hollywood Palladium for a four-day extravaganza performing tracks from all their albums.
On the second day of the event, Run The Jewels will perform tracks from their sophomore self-titled album, RTJ 2. So if this is your favorite Run The Jewels album, this day is for you! Catch the duo live as they perform songs including "Love Again" and "Close Your Eyes (And Count to Fuck)". This special day dedicated to RTJ 2 is on Thursday, the 12th of October, 2023.
Have the best night of your life with Run The Jewels and your favorite songs from RTJ 2! Buy your tickets before it's too late. You can say seats for you and your friends by clicking "GET TICKETS."
Run The Jewels released their top-ranking second album, RTJ 2, in 2014. The album received widespread acclaim from critics for its darker and more layered production. Killer Mike and EL-P's lyricism and connection were more prominent in this album, shining over their previous release. The album also featured collaborations with other talented hip-hop artists, including Zack de la Rocha, Diane Coffee, and Boots.
In the first week of its release, Run The Jewels 2 ranked 50 on the Billboard Chart Top 200 and sold over 12,000 copies in its first week. Several publications, namely Rolling Stones, Pitchfork, Complex, and Stereogum, ranked Run The Jewels 2 as the Top 1 Best Album of 2014.
Dan Rys of XXL spoke about the album and said, "For people looking for soulful, melodic hip-hop, this is not the album to pick up. Neither is it one for the kids who just want to repeat two words over and over again and call it a hook while jumping up and down and punching the air repeatedly. When listening to RTJ2, those feelings are translated into punches aimed at faces instead of spaces, and they always connect. The beats are grimy—typical of an El-P-produced project—and add even more grit to an album that doesn't ooze confidence so much as shoves you in the chest with it."
Run The Jewels 2 Tracklist:
"Jeopardy"
"Oh My Darling Don't Cry"
"Blockbuster Night, Pt. 1"
"Close Your Eyes (And Count to Fuck)" (featuring Zack de la Rocha)
"All My Life"
"Lie, Cheat, Steal"
"Early" (featuring Boots)
"All Due Respect" (featuring Travis Barker)
"Love Again (Akinyele Back)" (featuring Gangsta Boo)
"Crown" (featuring Diane Coffee)
"Angel Duster"
In this once-in-a-lifetime event at the Hollywood Palladium, you will get a chance to join Run The Jewels as they perform songs from their second album. The 12th of October will be dedicated solely to RTJ 2, so if this is your favorite Run The Jewels album, don't hesitate - be part of this iconic night!
Buy your tickets right now because the show is almost sold out! Click on "GET TICKETS" to purchase.