Hollywood Palladium | Los Angeles, California
Calling all reggae/ska heads and rock fans for a night that will blow you away! The rumours have been confirmed to be true – 311 are once again taking to the road on tour for the summer of 2017 to bring their latest record! Along with this, all of their famous hits.. if you're a fan don't miss this incredible night! On for support is the New Politics – join them all at Hollywood Palladium on Saturday 19th August 2017!
Tickets are NOW on sale!
"We wanted a title that pointed to our collective nature. Something that referred to the eclectic style of our music and the bond between the band members and our fans-and this title really captures that."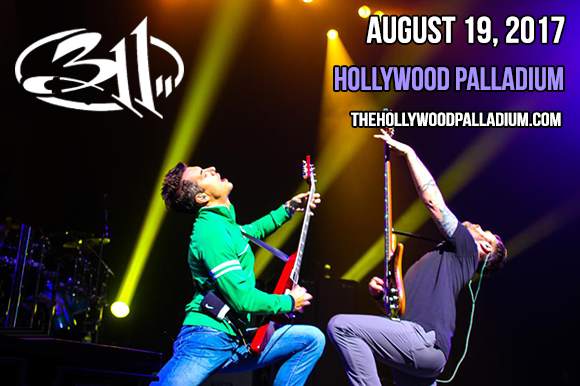 Hailing from Nebraska, 311 are made up of members; vocalist and guitarist Nick Hexum, lead guitarist Jim Watson (who would later be replaced by Tim Mahoney), bassist Aaron "P-Nut" Wills. and drummer Chad Sexton. Their original sound rocketed them into a universal crowd and gave them platinum success on pretty much everything they have released. Their Greatest Hits '93–'03 certified gold along with many other studio albums. The band continues to bring nothing but the biggest energy in their live performances – it's no wonder everyone wants a piece of this incredible act!