Hollywood Palladium | Los Angeles, California
Are you seeking a new EDM adventure? Look no further –Adventure Club is headed this way for a smashing one-night-only performance at the Hollywood Palladium on Friday 8th March 2019. Join the club of equally ardent fans who seek nothing but a raving night of dubstep and electro-house music all night long. Adventure Club is a duo who is causing all the rage in major music festivals all over the country and many parts of the globe. If you're not quick to the draw, tickets to this show may just dissipate in an instant. What are you waiting for? Book tickets for you and the whole gang and dance 'til you drop. Let the adventure begin!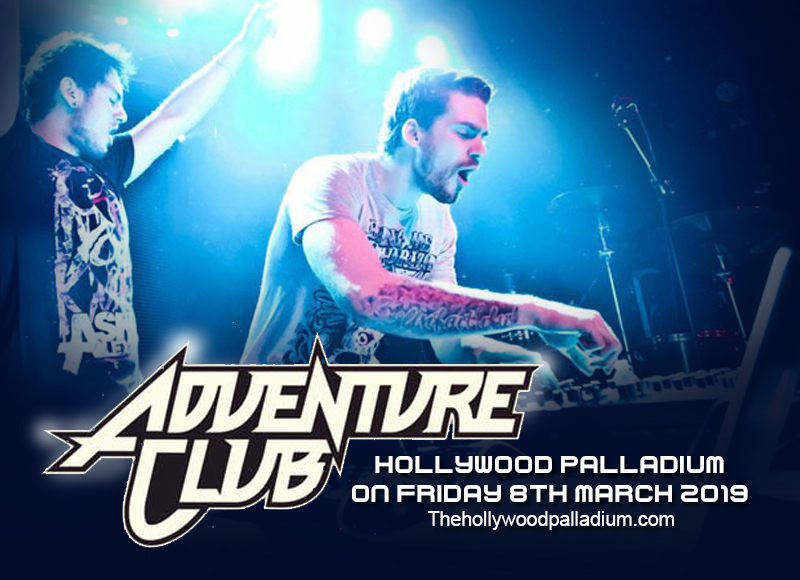 High school buddies Christian Srigley and Leighton James started out as a hard-core punk rock duo back in Montreal, Canada. Soon afterward, they were drawn to the infectious and hypnotic energy of dubstep beats, reminiscent of the geek dub stylings of Skrillex. They started mixing and remixing their punk rock influences with electronic dance music that resulted in an explosion of beats that many selfie-me-generation teens, hipster gamers and DIYers find very much appealing.
Adventure Club started releasing their material online, amassing hordes and hordes of followers all over the world. They integrated their sounds on videos and uploaded them on YouTube. With this, their fans grew to an exponential level that it was hard to ignore that a new breed of EDM musicians has come to rule the dance floor. The clamor for Adventure Club to be part of the major dance music festival scene was inevitable. They scored gigs in some of the biggest major EDM festivals like Electric Daisy Carnival and Ultra Music Festival.
Adventure Club are relatively newcomers to the scene but they have released a chuck-full of hits such as "Gold," "Wonder,", "Crash," remixes of popular songs like "Please Don't Go" by Mike Posner, "Youth" by Foxes, "Put On" by Young Jeezy, and "Daisy", and many, many more. These phenomenally irresistible tracks are reasons enough that you ought not to miss a single beat that drops on this show. The adventure begins…are you in or out?