Hollywood Palladium | Los Angeles, California
EDM sensation Alan Walker is opening a new portal to the Walkerverse as he kickstarts his set of shows this 2022 at "Walkerverse The Tour". Teleport to the Walkverse at Hollywood Palladium on Friday, December 2nd, 2022 as the dancefloor comes to life, inviting everyone to rave to Walker's electrifying EDM hits like "Alone", "Tired", and "Faded". As his newest single "The Drum" goes 'just follow the beat of the drum.. drum.. drum.. drum…', let the beat drop take you to the Walkerverse where all Walkers alike unite to party! Don't miss out on this special gathering with fellow Walkers at the Walkerverse by grabbing your tickets now!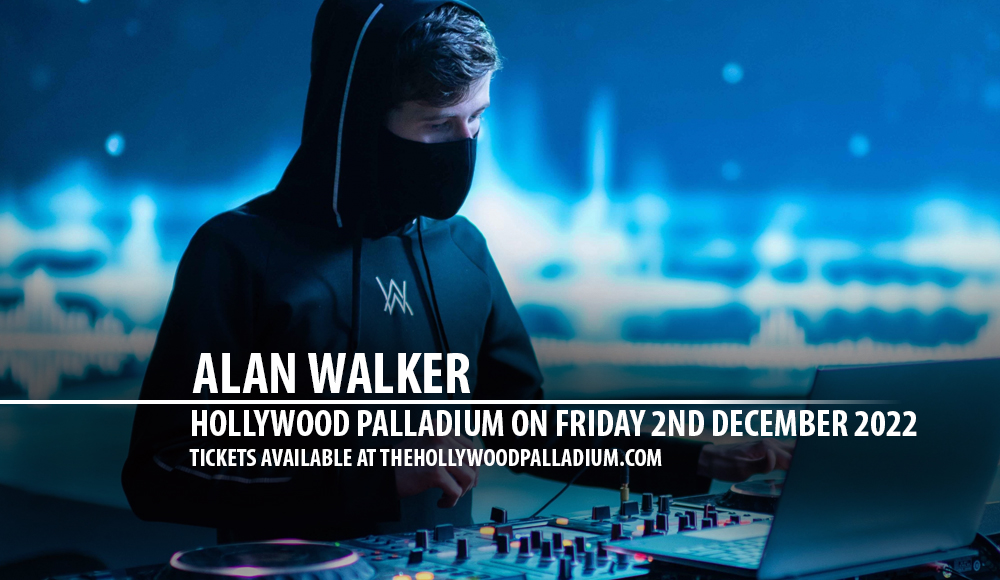 As a global-favorite DJ for his catchy EDM hits "Faded", "Sing Me to Sleep", "Alone", "Tired" feat. Gavin James, "All Falls Down" feat. Noah Cyrus and Digital Farm Animals, and "Alone, Pt. II" with Ava Max, Alan Walker rose to global domination with a mysterious movement featuring his "Walkers" wearing masks and black jackets, coming into unity.
Born in England, Alan Walker moved to Norway at age two and grew up finding interest in computers, leading to his interest in musical programming. He taught himself music production by watching YouTube videos. Inspired by EDM producers Ahrix and K-391, and various film composers, he reached out to DJ David Whistle about how he produced his tracks. He began producing his own tracks using FL Studio on his laptop. He started to gain online traction as a bedroom producer known as DJ Walkzz before getting signed and dropping his debut single "Fade" in 2014.
"Fade" gained significant attention when it was released via NoCopyrightSounds in November of 2014. It gained over 400 million views on YouTube and over 100 million streams on Spotify.
Alan Walker then signed under MER Musikk, a label under Sony Music Sweden, where he released "Faded" in December of 2015. The single topped the charts in Austria, Switzerland, Germany, and Sweden, and the iTunes charts across thirty-three countries. "Faded" also hit the top 10 of Spotify's Global Chart. The track's music video amassed over 3.2 billion views on YouTube, garnering over 24 million likes, and taking a spot in the top 10 most-liked YouTube videos.
With the global hit single's skyrocketing success, Alan Walker became one of the world's most-sought DJs with his succeeding singles "Sing Me to Sleep" and "Alone" in 2016 amassing over 670 million and 1.2 billion views respectively on YouTube.
With a growing following across the globe, his fanbase called 'Walkers' continued to duplicate in numbers. Throughout the next few years, he continued to serve hit collaborations including "All Falls Down" feat. Noah Cyrus and Digital Farm Animals, "On My Way" featuring Sabrina Carpenter and Farruko, and "Alone, Pt. II" with Ava Max.
Having released three new singles this year namely "Hello World" with Torine, "Headlights" with Alok featuring Kiddo, and "The Drum", Alan Walker teased the 'Walkerverse', the name of his 2022 world tour. Known for his captivating and cinematic live show experiences, Alan Walker is set to raise the bar for EDM live shows.
Get ready to gather with fellow Walkers at the Walkerverse coming to Hollywood Palladium on December 2, 2022. Book your tickets now!