Hollywood Palladium | Los Angeles, California
Spring is synonymous with new beginnings, fresh experiences.  Here's a hot, fresh, and exciting combination that would enliven and awaken your senses. Superstar indie bands All Time Low and Pierce The Veil will make your spring an explosive season with their Spring Fever Tour.  If you think these bands are intense onstage, try to watch them together.  This never-before-attempted double-headliner tour of All Time Low and Pierce The Veil, will blow your mind to smithereens! Check the temperature; it's getting hotter and hotter at the Hollywood Palladium, L.A.. Catch the Spring Fever Tour happening on the 9th of May 2013; show starts at 5:30 pm.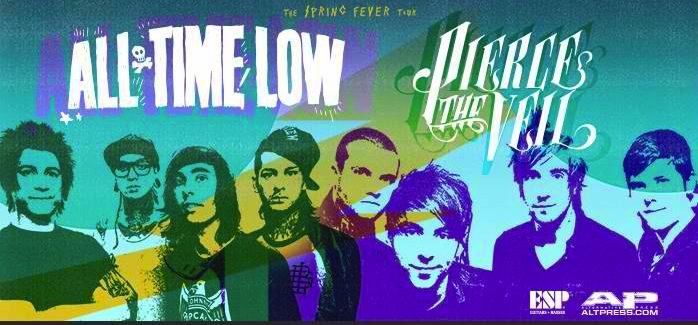 Indie bands used to be in the underground, but with fans growing by the minute in the different parts of the world, they're now at the forefront of the alternative rock music scene.  Thanks to bands like All Time Low and Pierce The Veil, their music is now being heard and has become more accessible to the fans.
All Time Low may be perceived by many as a young upstart band, but their rise to fame and success definitely did not come overnight.  The band consists of vocalist and rhythm guitarist Alex Gaskarth, lead guitarist and backing vocalist Jack Barakat, bassist and backing vocalist Zack Merrick and drummer Rian Dawson.  They started out as a high school band way back in 2003, and released their debut EP in 2004.  They paid their dues, so to speak, through constant touring and never stopped releasing one EP after the other.  They were slowly but surely gaining ground in the scene, and were starting to develop a set of loyal followers, despite of not having any chart-topping records nor any commercial radio play.  Yet their music spoke for itself, and they tasted the first fruit of their album success with the single "Dear Maria, Count Me In", certified RIAA Gold for 500,000 sales in the US in 2011.    Then, their major label debut followed soon after as they signed up with Interscope Records and released the album 'Dirty Work'.  It gave them their first Billboard chart-topper — debuted and peaked  at No. 6 on the Billboard 200.  The album sold 102,000 units in the US alone.  In June 2012, they officially re-joined their indie label Hopeless Records, and released the album 'Don't Panic'.
Pierce  The Veil is a band of brothers, and friends.  Brothers Vic and Mike Fuentes formed the band in 2007, and now includes Jaime Preciado (bassist and backing vocals) and Tony Perry (lead guitar).  San Diego's punk rock scene was a music hot bed which was instrumental and influential to Pierce The Veil's sound.  Pierce The Veil has always been a touring machine.  They've been a fixture on various rock concerts and music festivals.  To date, they have released three studio albums which includes the latest — 'Collide With The Sky'.
The Spring Fever tour is a scorching hot music cauldron.  With All Time Low and Pierce The Veil combined,  indulge in heaps of alt-rock servings.  First come, first serve.  Hurry, get your tickets now before plates and seats run out!