Hollywood Palladium | Los Angeles, California
Get ready for the death metal show of the century!! That's right, on Saturday 26th October 2019, Amon Amarth, Arch Enemy and At The Gates hit the Hollywood Palladium stage as part of the massive Berserker tour in support of Amon Amarth's new album of the same name!! It's going to be epic – don't miss it!! Hit the "Buy Tickets," button NOW and get yours while they last!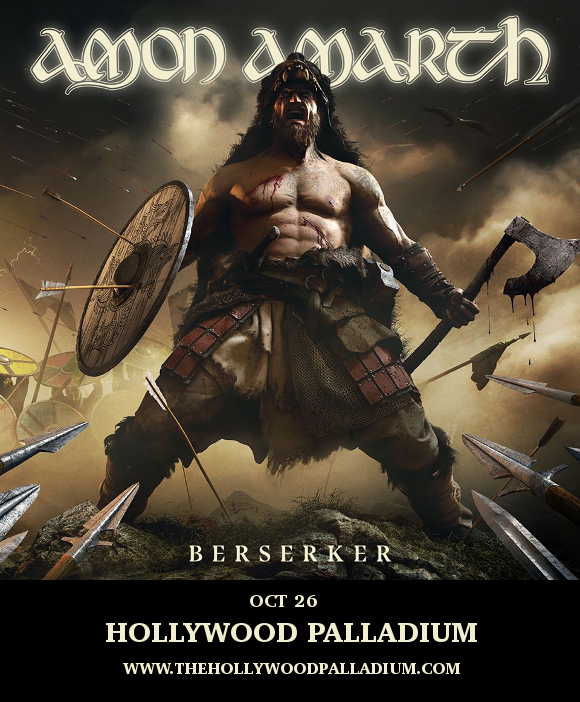 Currently comprised of band members Olavi Mikkonen, Johan Hegg, Ted Lundström, Johan Söderberg, and Jocke Wallgren, Amon Amarth have risen over the last decade and a half to become one of the most popular and instantly recognisable melodic death metal bands in the world. Their upcoming album, "Berserker," is the band's 11th, and their first to feature new drummer Jocke Wallgren, who joined the group in 2016. The first single from the album, "Raven's Flight," gives fans a flavour of the new album – one that may be Amon Amarth at their heaviest yet. "We want to try to keep growing and to do this for as long as we have the possibility to do so, because this is the best fucking job in the world," enthused vocalist Johan Hegg.
Are you ready to feel that incredible energy and drive live?? With the fast and furious openers Arch Enemy and At The Gates there to set the mood, Saturday 26th October promises to be be one of of the best metal shows you'll see this year. Don't miss it – get your tickets today!!