Hollywood Palladium | Los Angeles, California
DAVID GUETTA. ZEDD. ALESSO. The mere mention of these names alone could make you do the dance of joy. Well, here's great news that could make do cartwheels and backflips… 97.1 AMP Radio's annual music fest Amplify 2015 has put together the most sensational DJ dream team ever! Alesso, David Guetta, Zedd, AronChupa & DJ Baby Yu will invade the Hollywood Palladium on Friday 20th March 2015. Fans are just itching to be here. So get on your feet and get your hands on those precious tickets!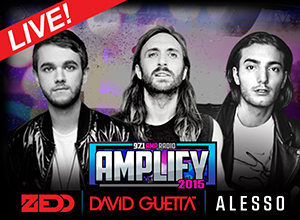 97.1 AMP Radio's Amplify 2015 has been under the radar of EDM music fans. Year after year, the acts get bigger, hotter, and more exciting. 2015 is no exception. In fact, it may be one of the most anticipated acts ever. DAVID GUETTA. ZEDD. ALESSO…and many more sensational DJs will be scratching your itch to dance to the most infectious EDM hits to date.
Name some of the most popular dance / EDM/ house songs you've so far…Yes, there are a lot. But you can bet your bottom dollar that there's a David Guetta hit in there. His signature spin could be heard on hit songs from The Black Eyed Peas, Nicki Minaj, Rihanna, Flo Rida, and so much more. No wonder, he's been voted #1 DJ in the 'DJ Mag Top 100 DJs' fan poll. His songs climbed up the charts to dizzying heights, and has sold nine million albums and 30 million singles worldwide.
He may be hitting the headlines now with his new moniker, 'Zeddlena' due to the his closer than close collaboration with Selena Gomez. Yet Zedd, has become household name since 2002. He is best known to date for his production work on "Clarity", which won Best Dance Recording at the 56th Grammy Awards.
In 2012, Alesso was named by MTV as "EDM Rookies to Watch," or "the next big thing in dance music." He has upheld the Swedish house music and hoisted it to towering heights. He has gained internationa fame from one of his biggest hits — "Heroes (We Could Be)". As of 2014, he ranks 15th on DJ Magazine's list of the top 100 DJs.