Hollywood Palladium | Los Angeles, California
Rising superstars in EDM, ATLiens are coming to Los Angeles this spring! The mysterious duo, responsible for dance hits and fan favorites like "Chief," "Alchemy," and "Fading Out," is set to light up the Hollywood Palladium on Friday, 3rd March 2023! The show in Los Angeles is part of ATLiens' North American winter-spring outing titled Space Catherdral Tour, consisting of 18 dates across major cities! If you love a good rave, ATLiens' show is the must-attend concert of the season! So hurry and buy your tickets now to ATLiens' once-in-a-lifetime performance at the Hollywood Palladium this March 2023!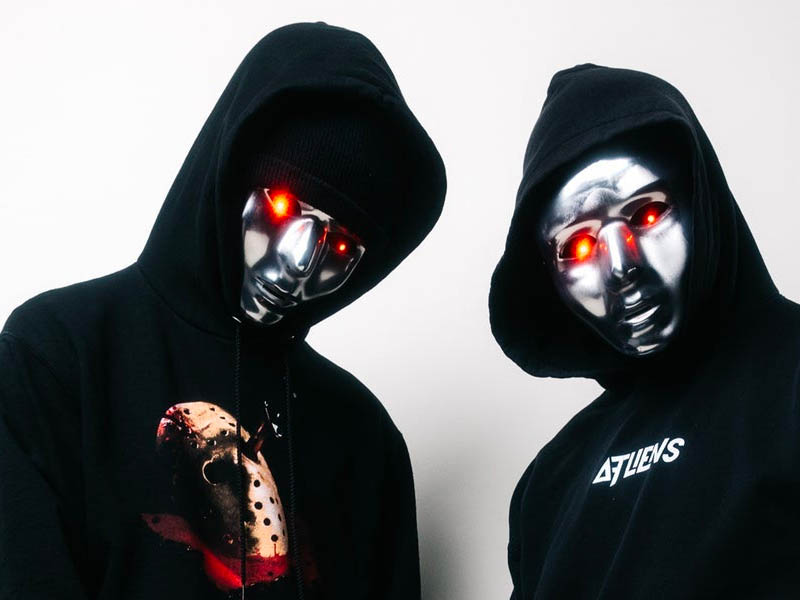 ATLiens is one of the most talked about names in the world of EDM. They have graced major festivals like Lollapalooza, Lost Lands, EDC, Flow Festival in Finland, and many more. The duo, donned in black hoodies and masks, is one of the hottest yet mysterious acts in the industry. Their alternative-electronica and dubstep fusion also has provided ravers with a unique but thrilling experience. Hailing from Atlanta, Georgia, the dance music wunderkinds jumpstarted their career with monumental remixes. The 2017 debut EP, titled Alchemy Remixes, contains tracks originally from TYNAN, Mark the Beast, Jameston Thieves, and many more. The same year, the duo released a massive collaboration with Bassnectar. The single "Interloc" was featured on Skrillex's record label. The following year, they dropped their sophomore EP, Invasion. The 14-track album contains several remixed tracks and collaborations with Woolymammoth, TYNAN, Sara Skinner, and Badrapper. The EP's most popular tracks, "Malfunction," "Interstellar," and "Witch Doctor," gained substantial traction on SiriusXM/Diplo Revolution.
In 2019, ATLiens released its third EP, Ghost Planet. This time, the record contains original tracks. ATLiens have completed major world outings, such as The Abduction Tour, Space Cult Tour, and the Phase One Tour. This 2023, the duo embarks on the Space Cathedral tour to promote their 2022 EP.
If you want a unique EDM experience, you better get on the bandwagon and join the ATLiens rave at the Hollywood Palladium on Friday, 3rd March 2023! Tickets are now available!