Hollywood Palladium | Los Angeles, California
One of the country's hottest DJs, Audien, known for his progressive house tracks is back on tour! Taking the party to Hollywood Palladium on Friday, 22nd of July 2022, Audien is set to bring progressive house back to the dance floor at the Progressive House Never Died Tour. With his latest single "One Last Dance" featuring XIRA giving fans the feels, Audien's back to throw a party for those hearts beating for a rave party! Catch him mix his sick beats live as the crowd goes wild to every beat drop at the PHND Tour led by the one and only Audien. Book those tickets now!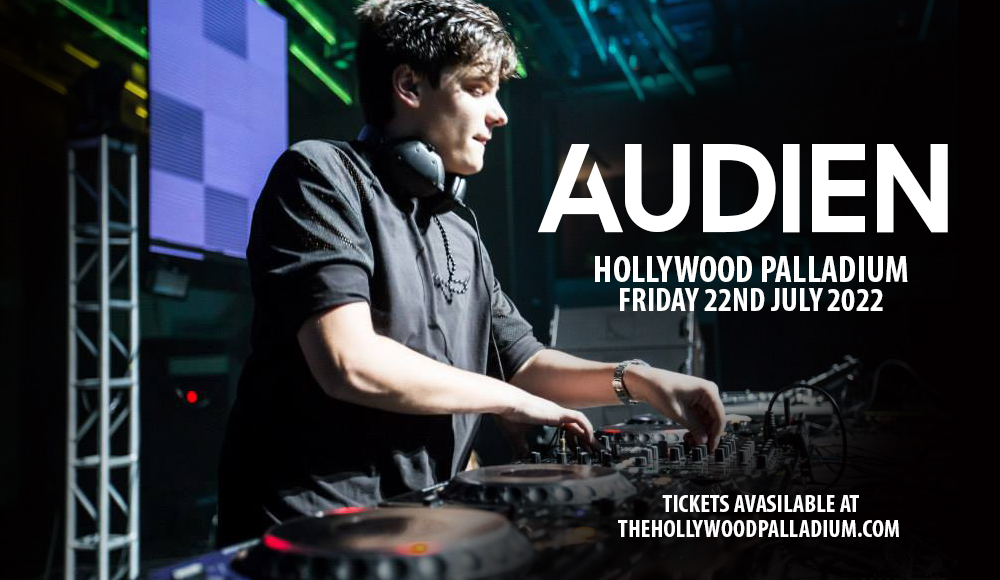 Rising into the DJ scene in 2009, Audien dropped his first single "Rise & Shine" at age 17. From then on, he released several singles and remixes for EDM labels, with some of his tracks featured on compilations including Tiësto's Club Life, Corsten's Countdown, Armin van Buuren's A State of Trance, and Above & Beyond's Trance Around The World.
It was in 2012 when Audien started putting out elements of progressive house into his work, with his single "These Are The Days". In 2015, he dropped his debut EP "Daydreams" featuring his track "Rooms". The same year, his remix of Bastille's Pompeii bagged a Grammy nomination for "Best Remixed Recording, Non-Classical".
His tracks "Insomnia" feat. Parson James, and "Something Better" feat. Lady Antebellum, both hit #1 on the US Dance Club Songs chart, with the latter breaking in the Billboard Top 40 Pop Songs chart.
Becoming highly acclaimed for his progressive house beats in the EDM scene, Audien amassed a growing and loyal fanbase. He continued touring, performing at festivals, and serving new singles along the way.
Last February of this year, Audien dropped his newest single "One Last Dance" featuring XIRA, where he serves a melodic-house blend in the song. In an Instagram announcement, Audien shared "worked on this song with @xiramusic during the pandemic when I was going through a lot of stuff, like a lot-lot of stuff, and this is the result of that. love you guys and hope it helps in some way."
With the progressive-house king back on tour, Audien is set to keep the genre living at the Progressive House Never Died Tour, stopping over at Hollywood Palladium on July 22nd. Book those tickets now!