Hollywood Palladium | Los Angeles, California
Calling all fans of the weird and wonderful, look no further than Babymetal!! The Japanese moe-idol-meets-metal fusion sensation is coming to the Hollywood Palladium on Friday 16th June 2017 to blow everyone's minds! Tickets selling fast – book yours NOW to avoid disappointment!!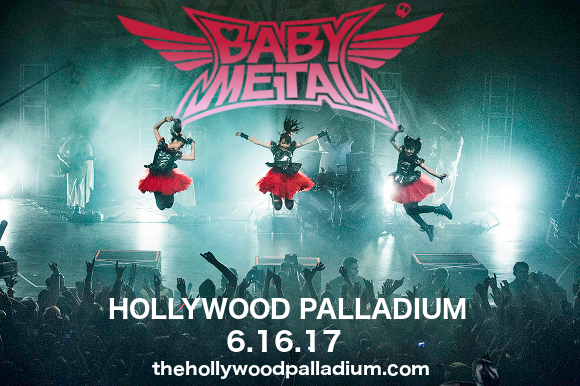 Formed in 2010 as part of the female idol group Sakura Gakuin, aiming to create a "fusion of metal and idol" (a Japanese genre in which pop stars are created with the intention of being role models). Prior to the band being formed, none of the three singers, (Suzuka Nakamoto "Su-metal", Yui Mizuno "Yuimetal", and Moa Kikuchi "Moametal") at the time aged 12, had heard of metal music!! Their first music video for the song, "Doki Doki Morning", totalled over 1 million YouTube views within its first two months online.
In February 2014, Babymetal released their first, eponymous album. It was extremely well-received by critics and audiences alike, selling in excess of 37,000 copies in its first week, debuting at number 2 in Billboard Japan. It also topped iTunes Metal charts in Germany, UK and US, and entered the US Billboard 200 chart on March 22, an unusual feat for a Japanese artist!! On April 2, one day after the release of their second album "Metal Resistance", Babymetal became the first Japanese act to headline Wembley Arena – a performance that was given 5 stars by The Guardian!!
Most well-known for their music videos which took the internet by storm for their bizarre, adorable uniqueness, nothing can do justice to the energy of Babymetal live!! Don't miss your chance to catch the strangest, cutest and heaviest act in the world – get your tickets to see Babymetal LIVE today!!