Hollywood Palladium | Los Angeles, California
Ever heard the saying: "Money can't buy happiness but it can buy concert tickets, which is kind of the same thing!"? Concerts of great artists are like good investments because the returns are immeasurable. One such concert artist that's truly worth every penny is BANKS. The "Gimme" singer is embarking on a tour de force after a two-year hiatus from the scene. And she has plotted a tour map that would take her to the road leading to the Hollywood Palladium on Tuesday 1st October 2019. Banks is raring to fire up the stage, as fans are scrambling to get their hands on those hot tickets. Beat the clock and get those tickets now!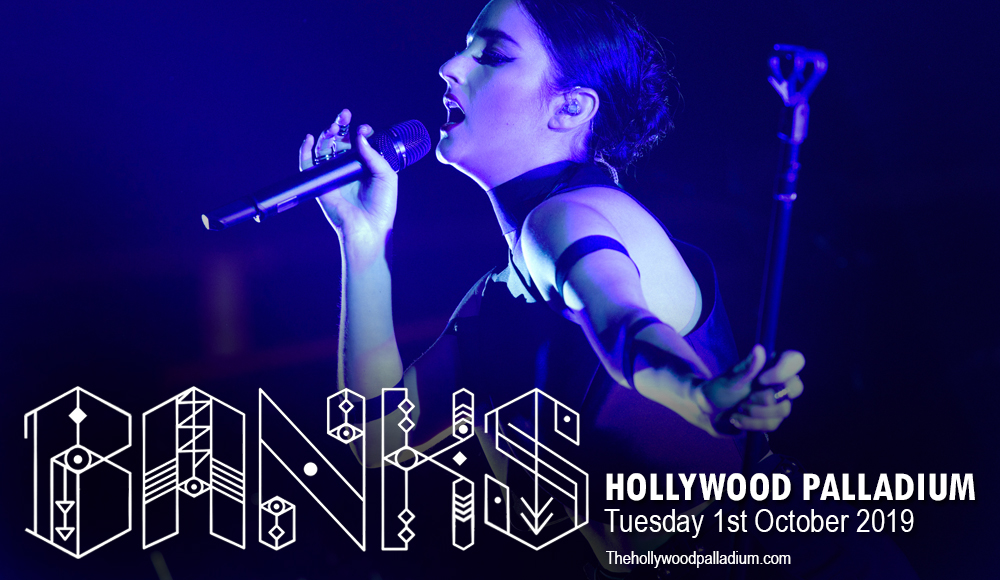 Often compared to Ellie Goulding, The Weeknd, and Aaliyah. You may hear tinges of those artists in Banks, but she has carved out as sound distinctly hers. The release of her two extended plays, Fall Over and London, in 2013, served as fitting preludes to Banks' released debut album, Goddess, on September 5, 2014, which earned positive reviews from contemporary music critics. As the album perched on the number 12 spot on the US Billboard 200, its most successful single, "Beggin for Thread", was a certified platinum seller. Award-giving institutions also took notice and served her with nominations at the Sound of 2014 award by the BBC and an MTV Brand New Nominee in 2014.
From there, she embarked on an international tour supporting The Weekend, where fans were spellbound and enamoured with her grittingly intimate lyrics and as Billboard describes –"…her rhapsodic voice possesses a frail vulnerability".
After taking a two-year hiatus from the scene, Banks is raring and ready to get back on the road and unleash her new album "III". "I'm so excited to get back out there and experience this next chapter with all of you. I can't wait to see these songs that I have been working so hard on come to life."
If you want to laugh all the way to Banks' concert (pun intended), then better 'invest' on those tickets early before they run out. Book your tickets now!