Hollywood Palladium | Los Angeles, California
Five-time Grammy Award-winner and alt-rock icon Beck comes to Hollywood Palladium on Friday 10th February 2017! The original hipster kid, Beck is known for his creative and artistic music, embracing a wide variety of genres and performing in a extensive range of styles. Don't miss your chance to see this indie genius LIVE!!!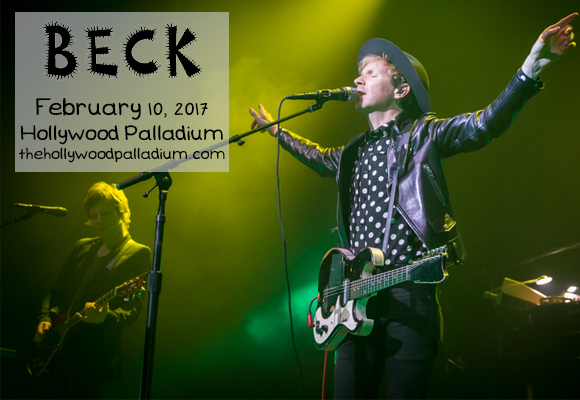 Beck is an American singer, songwriter, rapper, record producer and multi-instrumentalist, who rose to fame in the 1990s with his genre-defying, lo-fi, experimental music. He began his musical career playing anti-folk in coffee shops in the late 1980s, but it was his unexpected 1994 hit "Loser" that garnered Beck mainstream success. The same year, he released his debut album Mellow Gold. 1996 saw the release of Odelay, his follow-up album, which was a critical and commercial success, producing hit singles, topping critic polls and winning several awards, including two Grammy Awards. To date, Beck has released 12 studio albums (3 of which were independently released), as well as several non-album singles and a book of sheet music.