Hollywood Palladium | Los Angeles, California
Bikini Kill are back! Coming to Hollywood Palladium on Thursday 25th April 2019 for two exclusive shows, the inciters of the '90s riot grrrl movement and feminist punk icons will be taking to the stage together for the first time (other than a brief, one-song appearance in 2017) since 1997! The group's return to the stage pairs with a reissuing of their seminal independently-released EP Revolution Girl Style Now! So, girls to the front and get ready to see these feminist heroes in action!!!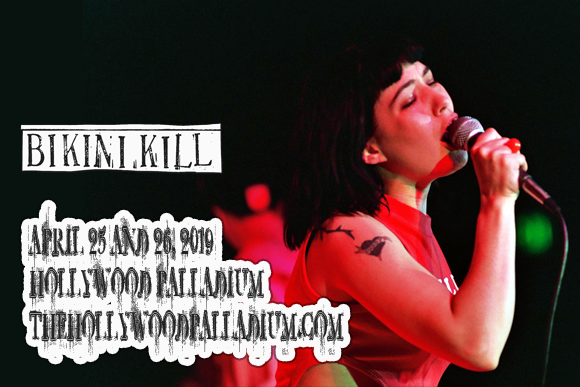 Formed in Olympia, Washington, in October 1990 by singer and songwriter Kathleen Hanna, guitarist Billy Karren, bassist Kathi Wilcox, and drummer Tobi Vail, Bikini Kill is an American punk rock band and pioneer of the riot grrrl movement. Known for its radical feminist lyrics, aggressive sound and raucous, female-centric shows that encouraged female audience members to come to the front of the stage, the group became the focus of a lot of media attention throughout the 1990s and became an icon of feminism to many. The band met while attending The Evergreen State College in Washington and many of its first shows were accompanied by a fanzine called Bikini Kill. The group released its independent demo cassette, Revolution Girl Style Now!, in 1991, followed by the Bikini Kill EP (produced by Ian MacKaye of Minor Threat and Fugazi) on the indie label Kill Rock Stars in 1992. They followed with a split album with English riot grrrl group Huggy Bear in 1993 (Our Troubled Youth/Yeah Yeah Yeah Yeah), followed by two more studio albums: Pussy Whipped (1993) and Reject All American (1996). The group disbanded in 1997, but announced a limited run of reunion shows in 2019.