Hollywood Palladium | Los Angeles, California
Almost two decades after the monumental release of their ground-breaking 2005 album "Silent Alarm", British indie rock band Bloc Party is bound for a concert tour de force. This gig is truly special as the band is set to play an iconic set that will cover the entire "Silent Alarm" album. That's one big reason that calls for a celebration! Bloc Party live at the Hollywood Palladium on Thursday 21st November 2019, is one monumental salvo that no fan should ever miss. Now sound the alarm as tickets are moving out fast. Book your tickets now!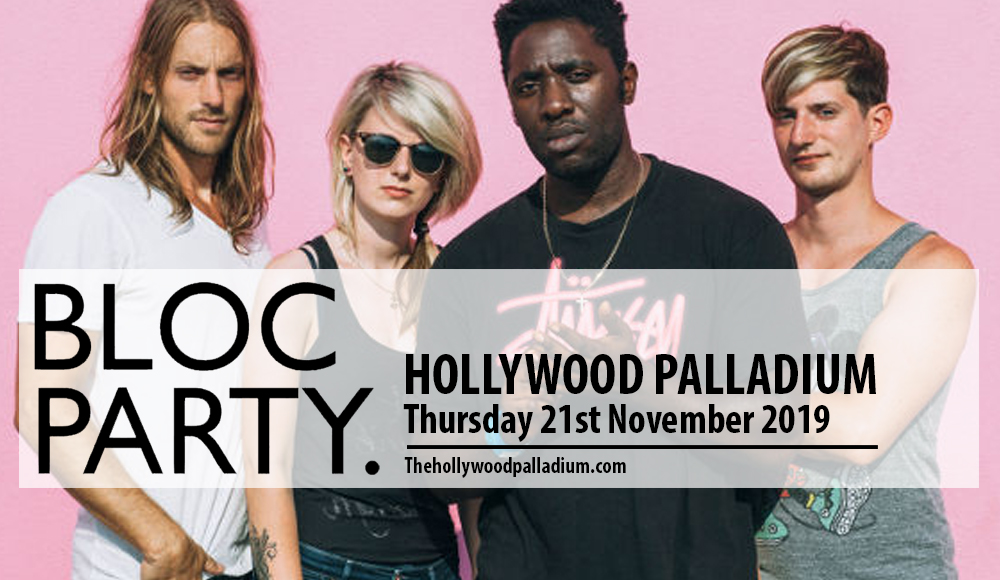 Ex-Bloc Party drummer was once quoted, saying: "There's every chance we might go back to more orthodox arrangements or things that resemble a traditional band but I don't think we'll ever write songs like we did on Silent Alarm again."
Silent Alarm. Their 2005 ground-breaking, official debut album put Bloc Party in the map, so to speak. Critics raved about it, as the band earned Indie Album of the Year at the 2006 PLUG Awards and NME Album of the year. From there, it triggered the release of staggering Bloc Party hit singles such as "Two More Years" (2005), "The Pioneers" (2005), "Banquet" (2005), "Helicopter" (2006), "The Prayer" (2007), "I Still Remember" (2007), "Hunting for Witches" (2007), "Mercury" (2008), "Flux" (2008) and "Octopus" (2012). Their hit albums include A Weekend in the City (2007) and Intimacy (2008).
With this, Bloc Party is often cited as one of the founding fathers of the indie-rock boo in the UK and the rest of the world. And with them still rocking it in 2019, is more than enough reason to throw a party! Be there!