Hollywood Palladium | Los Angeles, California
Your favorite indie-pop-rock band hailing from Nashville, COIN, is finally back on a tour, hitting the stage at Hollywood Palladium on Thursday, 14th of July, 2022. The cheeky trio behind the viral hit "Chapstick" and the crowd-favorite anthem "Talk Too Much" is dropping their fourth studio record, "Uncanny Valley", on March 25th. Hailed as "new wave crash-course survivors" by Billboard in 2015, climbing out of Nashville's country music DNA. Don't miss out on COIN's fresh new songs off of their latest record and your favorite alt-pop anthems live on stage. Book your tickets now!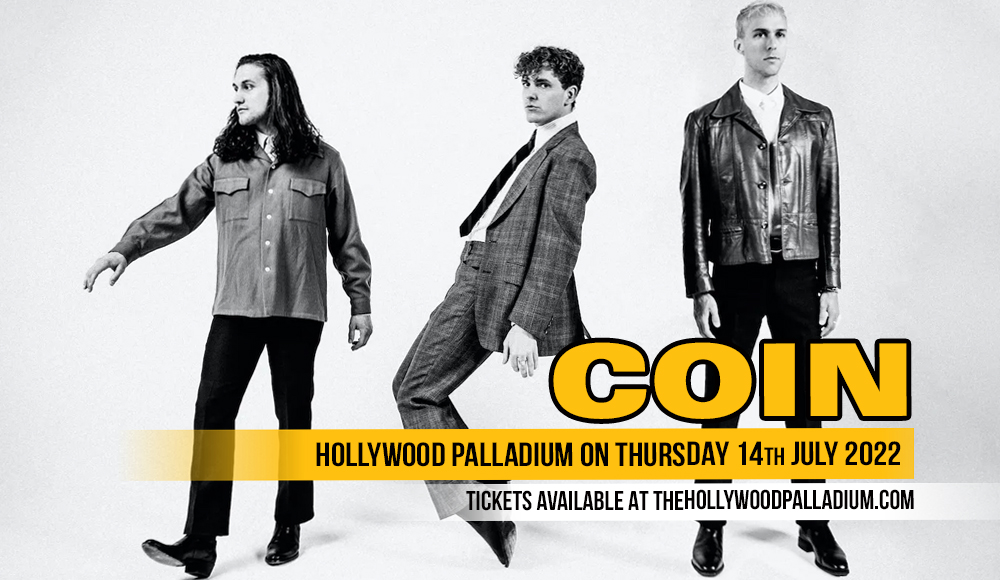 COIN has its roots in Nashville, coming together in 2012 when music theory class seatmates Chase Lawrence and Joe Memmel agreed to give writing music together, a shot. They were then introduced to Ryan Winnen and now past-member Zachary Dyke. Together, they started recording and posted free songs on the internet. They swiftly attracted a local fanbase, playing gigs around Nashville.
By 2015, the band dropped their debut self-titled album, featuring the single "Run" to which Billboard called them "new wave crash-course survivors", as a new fresh take in the alt-pop scene out of Nashville.
In 2016, they released their second studio record, "How Will You Know If You Never Try", which marked COIN's breakout success with its single "Talk Too Much", propelling the band to reach a wider audience.
Hailed as "the last gasp of 2010s alternative pop" by Stereogum, COIN has emerged as a rising alt-pop band here to stay and bring the cheeky anthemic indie-pop types of music to new heights. Their recent single "Chapstick" marks their debut at #1 on the Billboard Adult Alternative Airplay chart.
As they drop their newest album, the band released another new single "Brad Pitt". "We just kept massaging and trying different things, and eventually what seemed risky turned into something that felt so right," said Joe Memmel. "We wanted to make people feel like they've opened a door to the future, and heard a combination of sounds they weren't supposed to hear yet".
COIN is definitely here to stay and continue making great waves in the alt-pop landscape. People magazine said, "This alt-pop group is giving other bands a run for their money". Don't miss out on catching the cheeky trio perform fan-favorites and fresh new beats at the Hollywood Palladium. Book your tickets now!