Hollywood Palladium | Los Angeles, California
Daniela Mercury is one of Brazil's best female singers of all time. And, she is coming to Hollywood Palladium on Friday 13th September 2019! Purchase your tickets now!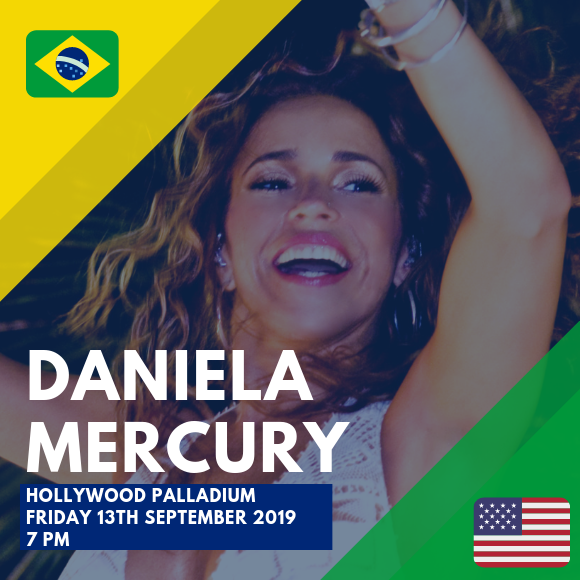 A singer, songwriter, dancer, producer, actress and on top of that, a television host, Daniela Mercury is a legend in Brazil!
Mercury has sold over 20 million records worldwide and had 24 Top 10 singles in the country, with 14 of them reached #1. Later on, she won a Latin Grammy for her album Balé Mulato – Ao Vivo. She also received six Brazilian Music Award, an APCA award, three Multishow Brazilian Music Awards and two awards at VMB: Best Music Video and Photography.
In 1991, Mercury released her self-titled album, which was followed by O Canto da Cidade, boosting her career as a national artist and taking her music to greater heights. Over the years, Mercury released several albums, generating great singles like "Swing da Cor", "O Canto da Cidade", "À Primeira Vista", "Rapunzel", "Nobre Vagabundo", "Ilê Pérola Negra", "Mutante", "Maimbê Dandá", "Levada Brasileira", "Oyá Por Nós", among others.
Additionally, she recorded a commemorative DVD of Cirque du Soleil's 25th anniversary and was part of the Montreal Jazz Festival. Mercury was also invited to participate in the Alejandro Sanz's DVD, and sing with Paul McCartney in Oslo, Norway, during the delivery of the Nobel Peace Prize.
In 2009, she released her album called Canibália and it spawned three singles: "Preta" with Seu Jorge, "Oyá Por Nós" with Margareth Menezes and "Sol do Sul". Along with the album, Daniela launched an international tour. That same year, writer and intellectual Camille Paglia, who had an intellectual "passion" for Madonna, said Daniela Mercury is the artist who Madonna would like to be.
American TV channel CBS elected Daniela Mercury as the "Carmen Miranda of the new times" in 2011. The Canibália album was released in the United States yielded a critique of The New York Times saying: "Daniela Mercury goes beyond the concepts that were stressed during her career with a contemporary pop, embracing ethnic and cultural diversity of Brazil (particularly African-Brazilian culture, while Daniela Mercury is white), remembering the past and transforming it."
Daniela Mercury is an artist you will not regret watching her perform live. Her voice and strong stage presence will blow you away.
Doors open at 7 PM.