Hollywood Palladium | Los Angeles, California
As Deadmau5 dropped the announcement on his Instagram account about the Cubev3 Tour over 300,000 viewers were listed in less than 24 hours. Indeed, he's now that 'other mouse' who has rivaled Mickey in massive popularity. But Deadmau5 belongs to other spectra of the club. With this brand new spanking tour, Deadmau5 is ready to roll out 'the cube' in a colossal touring scale, with everyone has been raving about it since he unveiled it at the Ultra Music Festival. Be there as it happens at the Hollywood Palladium on Wednesday 25th September 2019. Also, catch Canadian singer, songwriter, author, and illustrator Lights, take the stage. Catch the mouse before it quickly runs off. Get your tickets now!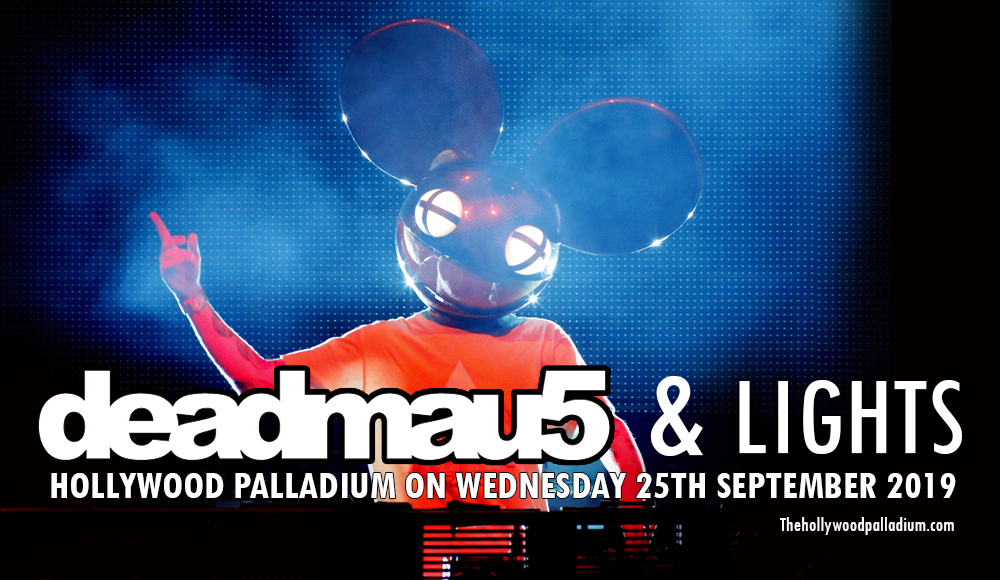 He is one brave soul who took on the challenge to become the famous mouse in the world. He donned a big headpiece – face mask utterly similar to that iconic mouse logo and lo and behold, Deadmau5 was born. Joel Zimmerman is the man behind the mouse and of course, the music of Deadmau5. He is an electronic and computer whiz who shifted yet brought his genius into producing progressive house music and sometimes other forms of electronic music. And what's with that name? The origin literally was from a dead rodent he found inside his computer…and the rest is history.
Zimmerman, better known for his alter-ego Deadmau5, has international chart-topping singles to his name which include "Professional Griefers," "Sofi Needs A Ladder," "Ghosts 'n' Stuff" and "I Remember". He is a six-time Grammy Awards nominee and has worked with equally world-renowned DJs and EDM producers such as Kaskade, MC Flipside, Rob Swire and Wolfgang Gartner. He has also collaborated with Steve Duda under the group name BSOD (Better Sounding On Drugs), and was part of the group named WTF? with Duda, Tommy Lee, and DJ Aero, and is touted as one of the highest paid EDM DJs in the world.
Deadmau5' innovative Cubev3 Tour is truly worth the ticket. Don't miss out on the action!