Hollywood Palladium | Los Angeles, California
Fans of country get ready for this: actor and singer-songwriter Dwight Yoakam is coming to Hollywood Palladium on Thursday 30th March 2017!! Popular since 1980 and selling more than 25 million records worldwide, he will deliver a night of country rock like you've never seen before – get yourself tickets now!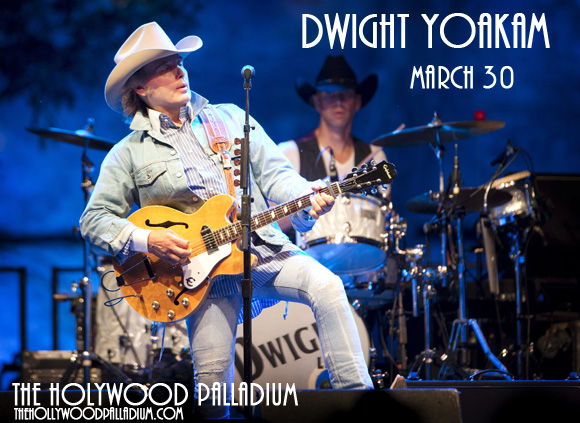 Initially aiming to make music in Nashville, Dwight Yoakam found that his brand of honky tonk "urban cowboy" pop music was not considered authentic or marketable. Doggedly determined to make it work, he moved to Los Angeles and performed his material outside of the usual country channels, playing brazenly instead in rock and punk rock clubs, and amazingly, grew an audience there. Perhaps it's not surprising that they did – his music is distinctly Hillbilly, but the driving beats, swaggering lead and center around the 12-bar-blues lends itself well to rock-and-roll audiences. He gained a diverse and widespread audience, and he has since been credited with the introduction and acceptance of country by rock audiences. His video "Honky Tonk Man" was the first ever country music video to be played by MTV, a truly groundbreaking achievement for the genre that initially refused to accept him.
Since his steamrolling early success, he has recorded more than 21 albums and charted more than 30 singles on the Hot Country Songs charts. 12 of his albums have been certified gold and nine platinum, including "This Time" which was certified triple platinum. He has received praise from the likes of Johnny Cash, calling him his favourite country artist, with Chris Isaak saying he was "as good a songwriter as ever put a pen to paper." This performance is not to be missed!