Hollywood Palladium | Los Angeles, California
"A" and "V" are set to pulp up the stage at their Pulp Fiction Tour 2023. Fresh from the third installment of "The Juice", the mysterious R&B-pop group, Emotional Oranges, is taking flight across the country for a pulpy tour trek. The group will set foot on stage at Hollywood Palladium on Friday, 31st of March 2023, serving their hits, fan favorites, and new music. Their hits include "West Coast Love", "Motion", and "Bounce". Don't miss out on a pulp-filled party led by Emotional Oranges at Pulp Fiction Tour 2023 by booking your tickets now!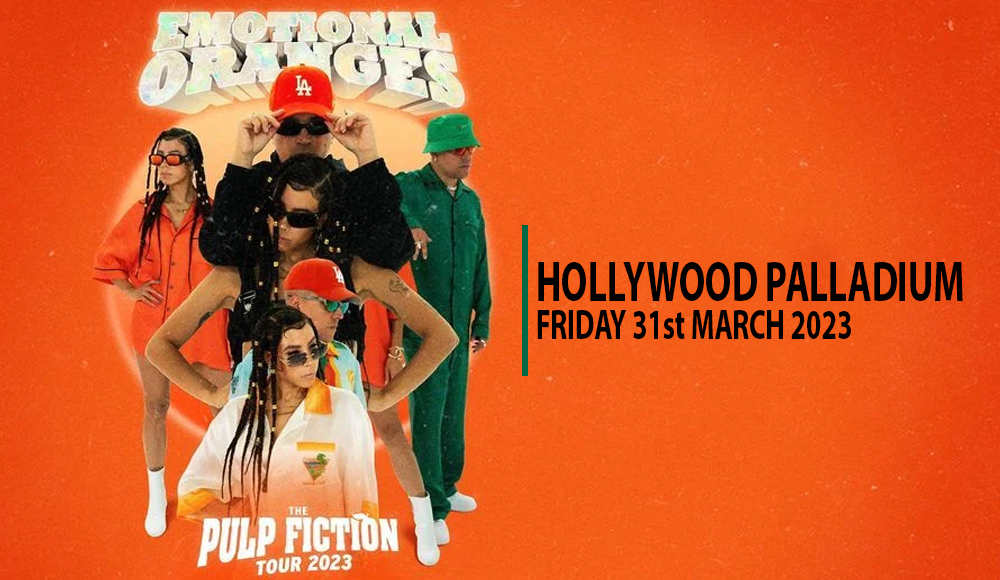 When "A", an audio engineer, and "V", a vocal coach, met at a bat mitzvah in 2017, Emotional Oranges came to fruition, becoming the hard-hitting R&B group whose members' names remain anonymous to this date. Its first single "Motion" was released in 2018 and used as the theme song for RuPaul's Drag Race in the same year. From then on, the group amassed critical acclaim in the R&B scene for their blunt lyrics, '90s-inspired beats, and astounding vibe in every track.
In December 2022, the pulp duo returned with the third installment of "The Juice". The new record features eight songs that take inspiration from various genres including alt-R&B, soul, and funk. With identities still kept secret, the duo lets its music speak for itself.
In an interview with L'Officiel Singapore, A and V shared the inspiration behind their new record. "The songs are inspired by the journey of a relationship from the butterflies to the good, the bad, and the ugly moments in between, and in this case, the end of one," shared V. "We wanted to create a sonic throughline between the first two volumes while also experimenting a bit and stepping out of our comfort zone musically," A said.
As they kickstart a new era of Pulp Fiction on tour, Emotional Oranges is set to continue making their music speak for itself – and it's proven effective as their craft made big waves among R&B listeners.
The duo's best hits and fan-favorites include "Motion", "Make Me Wanna", "Down To Miami" featuring Becky G, "All That" with Channel Tres, and "Just Like You".
Though little is known about the duo and its discreet attitude towards the press, Emotional Oranges' music definitely shines bright. Don't miss out on this chance to witness Emotional Oranges' masterpieces live on stage at the Pulp Fiction Tour by booking your tickets now!