Hollywood Palladium | Los Angeles, California
Once again, Excision is coming to take over Hollywood Palladium with his loud, wild, and frenetic brand of loud dub, rude bass, and all of its hypermutations. And you gotta grab the chance to be there! When Excision drops the beat, make sure to catch it by making a mad dash for those precious tickets. Get down on Saturday 28th January 2017 – it's going to be a blast!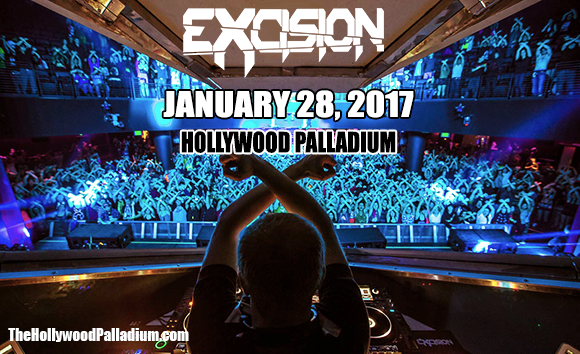 Excision is touted as the loudest among the flock of DJ producers who play EDM, running the gamut of dubstep, drum and bass, rude bass, house, and the like. Beginning in 2004, this university student dropped out of school to perfect his craft through watching online tutorials of up to 12 hour a day; and to follow in the footsteps of his fave electronic band The Prodigy. The following year, he was running his own bass record label Rottun Recordings and was one of the forerunners of EDM in Canada. He began to release his own tracks / singles in 2007. He made some 'noise', and succeeded at making music industry heads turn. And yes, the crowd lent him their ears and they wanted more…Excision now has legions of fans at the palm of his hands — jumping up and down to his heart-pounding, chest-exploding, and pulse-throbbing beats. His biggest hits include "The Underground", "Ohh Nooo", "Execute", "Float Away", "Push It Up" and "Night Shine".