Hollywood Palladium | Los Angeles, California
Just in time for the Halloween season…. The 80's German power rockers RETURN to the stage next coming Fall! It's a dream come true for Helloween fan as they stop off to perform an unstoppable show at Hollywood Palladium – make the most of this EPIC experience by booking tickets for the Saturday 8th September 2018!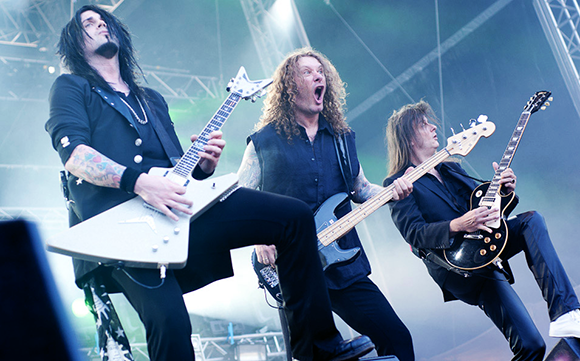 "It is hard to believe that I would have to wait 18 years to finally see Helloween — one of my all-time favorite bands — live in concert after it was strongly 'recommended' that I bypass the German power metal band's show in Budapest, Hungary back in 1995. Helloween are worth the wait."
Helloween are one of those bands that continue to perform to the best of their abilities, with their fan base sticking by them for almost 30 years, these guys mean business! Their albums have included the likes of hit records; Pink Bubbles Go Ape (1991) and Chameleon (1993), Master of the Rings (1994), The Time of the Oath (1996), Better Than Raw (1998) and The Dark Ride (2000).
Current members
Michael Weikath – lead & rhythm guitar, backing vocals (1984–present)
Markus Grosskopf – bass, backing vocals (1984–present)
Kai Hansen – lead & rhythm guitar, backing vocals (1984–1989, 2016–present), lead vocals (1984–1986, 2016-present)
Michael Kiske – lead vocals (1986–1993, 2016–present)
Andi Deris – lead vocals (1994–present)
Sascha Gerstner – lead & rhythm guitar, backing vocals (2002–present)
Daniel Löble – drums (2005–present)
It is set to be a major year for the throwback rockers, if you love their music, then get ready to catch them LIVE as they hit up the stages across North America… Fall 2018, this is the place to be!