Hollywood Palladium | Los Angeles, California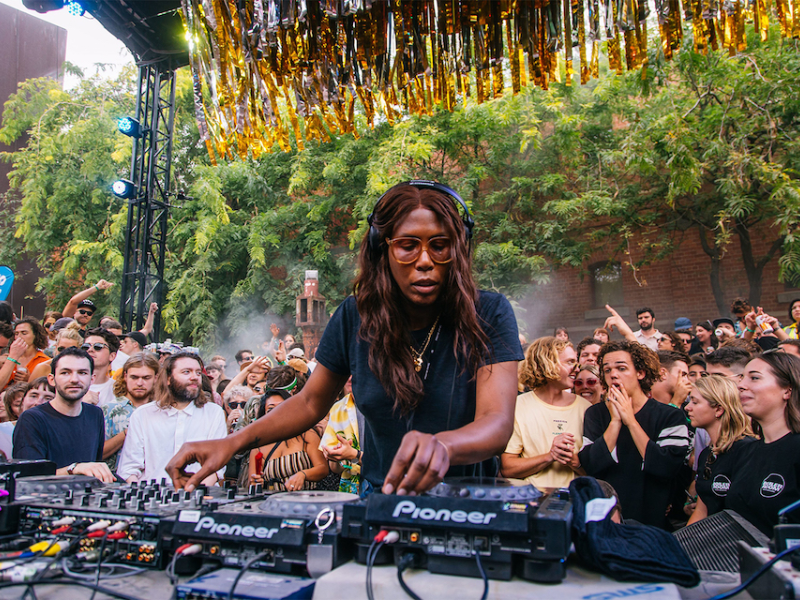 Mama is back in Los Angeles! Honey Dijon exclusively presents Transmutation at The Hollywood Palladium on Friday, December 15th. The American DJ is on a roll as she was recently awarded a Grammy for her collaboration with Beyonce on Renaissance, in addition to earning the lifetime achievement Queer Visionary Award. The live event will also feature Virgil's Dream singer Masha Mar and Magic Roundabout's show host Heidi Lawden as her supporting acts. Don't go falling asleep, children; we're gonna be up all night for this one! For five continuous hours, Secret Project's production will highlight Electronica and House Music tracks like never before. Audiences can expect to hear her latest songs, including "Love Is A State Of Mind," "Work," "Not About You," and more! This winter, start steering your direction towards the entertainment capital of the world and experience the EDM event at the largest dance floor located at Sunset Boulevard! Purchase your passes right now!
Be there as Honey Dijon takes the stage at The Hollywood Palladium on December 15th! Produced by Secret Project, the Transmutation tour will also feature supporting acts from fellow electronica artists Masha Mar and Heidi Lawden.
Honey Redmond is an American DJ and electronic musician based in New York and Berlin. Although she's been a popular name in the club scene since the late '80s, it's only in the last decade that the trans producer has garnered international fame, becoming a generally influential figure today.
Last year, Honey was honored with a lifetime achievement award titled "The Queer Visionary Award" for her contributions as an "artistic pioneer" within the LGBTQIA+ community. Following this, she earned her first Grammy for Best Dance/Electronic Album for Renaissance - a collaboration with award-winning R&B pop artist Beyoncé.
In an interview with Crash Magazine, the artist shared how she approaches her favorite live performances, mentioning that sometimes reading the situation is important to match the dynamics of the crowd. "Sometimes, the crowd is ready, and you have to give it from the get-go. So every set, you can have a different favorite moment; it might be the synergy from a dancer and the music and the lighting – these things are natural and organic," Dijon continued.
Furthermore, The Guardian shares how watching the Chicago DJ behind the decks can be as close to a spiritual experience as anyone can possibly get on the dancefloor. "Trading in the four-to-the-floor kick drum that provides the aortic pulse to house music, Dijon's mid-tempo sets conduct her crowds perfectly from tantalizing buildups to scattered breakdowns and communal euphoria as her soaring melodies kick in," the review continues.
Alongside Honey, two fellow genre hitmakers will also be present at the EDM event this winter! Masha Mar is the resident DJ and Co-Founder of DigDeeperLA Radio, best known for hits like "Virgil's Dream" and "Extended Release." Similarly, Heidi Lawden is a DJ, producer, and singer who hosts a bi-weekly show entitled Magic Roundabout, broadcasted on LA's dublab.com.
Sweeten your night and mix up your plans with Honey Dijon live at The Hollywood Palladium on December 15th! Beats and bliss will fill the stage at the renowned venue on Sunset Boulevard, and you surely don't want to miss it. Grab your tickets today by clicking the "Get Tickets" link located above the page!