Hollywood Palladium | Los Angeles, California
Sunshine Reggae group, Iration are coming to Hollywood Palladium on Saturday 14th November 2015! Joining them on their 'Hotting Up' tour in support of their brand new album, is roots rockers – The Green & Hours Eastly!
Iration know how to get the crowd moving, their feel good sound brightens even the rainiest day! A righteous riddim section combines with grooveridden & powerful dub guitars… the perfect mix. What are you waiting for? Grab your tickets now and come and get your skank on!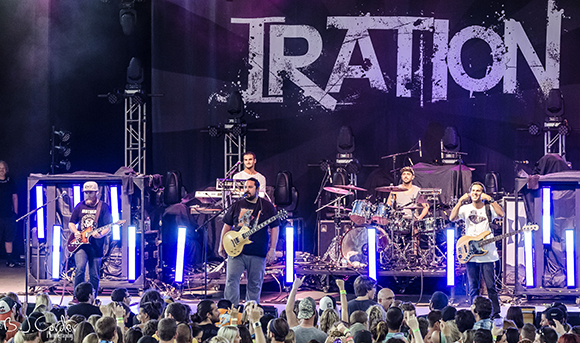 Iration are a Reggae band hailing from Santa Barbara, California. However all the members originally originate from Hawaii, which has had an obvious influence on their music. When you listen to Iration, you are instantly transported to a tropical island, with the view of the sea and a Pinacolada in hand.
The groups formation began in back in 2004, as friends joining together to play Reggae covers live to the locals in their hometown. Within a short space of time, Iration were known for their powerful performances: "There's something to be said for any band that can capture the undivided attention of a crowd full of drunken Isla Vistans, especially when there are kegs to be tapped and cops to avoid. But roots reggae rockers Iration manage to 'do it' on a regular basis."
In 2007, they had managed to write enough original material to record their debut album 'No Time for Rest', which smashed the Billboard Reggae Albums Chart at No.1 position! Iration released their second EP, 'Sample This', just a year later. The record rocketed and hit No. 3 top-selling reggae album world-wide on iTunes! 2 years later, their second full album 'Time Bomb' also topped the Billboard Reggae Albums Chart and sold over 36,000 copies!
This talented six piece are now touring the U.S.A, packing out stadiums and making many people very happy with their incredible songs that stay true to the roots of reggae music.