Hollywood Palladium | Los Angeles, California
An iconic punk-jazz star for his acclaimed records, "The Ooz" and "Man Alive!", King Krule is back in the game. Set to release his fifth studio album, "Space Heavy", on June 9th, the man also announced a tour in support of his new material. With a rocket-launching Space Heavy Tour coming right up, the man is set to launch audiences into a new world at Hollywood Palladium on Monday, 25th of September 2023. As "Space Heavy" prepares for takeoff, King Krule gave fans a taste of outer space with his new single "Seaforth". Its release marks 10 years since he dropped his debut album "6 Feet Beneath the Moon" which marked the beginning of his reign. As Space Heavy launches a new King Krule era, don't miss out on Krule's biggest hits, fan favorites, and new songs live at the Space Heavy Tour by booking your tickets now!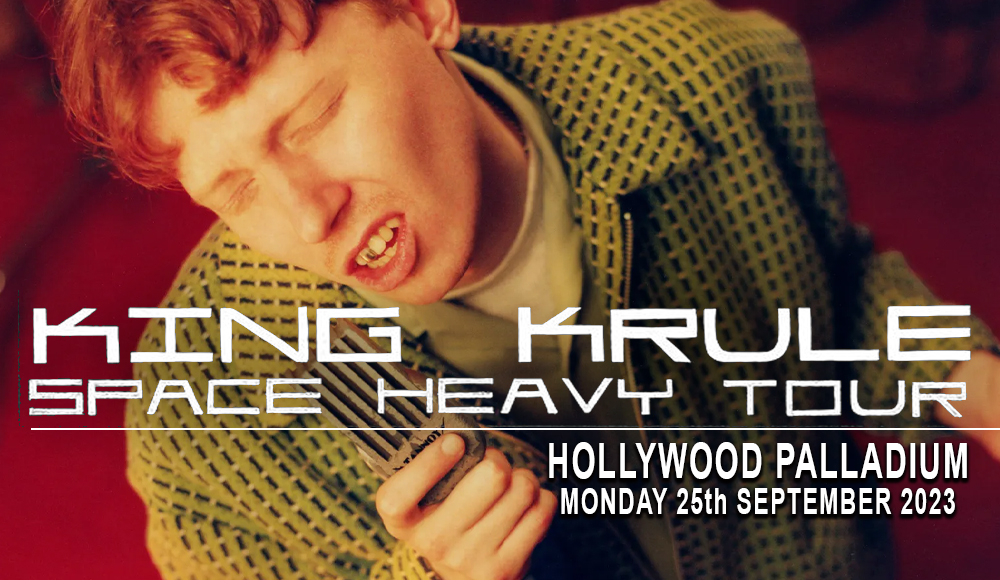 The man is definitely alive! Gearing up to take off into another world with his upcoming album, Space Heavy, King Krule just announced his supporting Space Heavy Tour, set to play cities in the US kicking off in July and closing the leg in September before he launches into Europe by October. As a follow-up to his highly-acclaimed 2020 album "Man Alive!", King Krule gave fans a taste of Space Heavy with his newest single "Seaforth", along with a matching video featuring some adorable dogs.
Written amidst the global pandemic, Archy Marshall, the man behind the King Krule moniker, shared that he was "fascinated by the notion of 'the space between'". The 15-track album explores a "narrative of lost connection", exploring spaces that one goes through.
Space Heavy is officially launching into the airwaves on June 9th via Matador. The record features his collaborator, Dilip Harris, produced alongside bandmates Ignacio Salvadores, James Wilson, George Bass, and Jack Towell. Inspired by two spaces he takes great importance as his homes, London and Liverpool, the album is set to dive into the in-betweens of life.
In an interview following the release of his "Man Alive!" LP in 2020, "London is just the place I've been for 24 years," Marshall tells Loud and Quiet. "I enjoy the pace of life outside of London. I enjoy the air and the landscape… I've matured over the past year in conversation and appreciation and humanity,"
As Space Heavy explores in-betweens of his life between London and Liverpool, both uplifting and heart-wrenching tales await listeners as King Krule is known for his honest lyrics matched with alluring punk-jazz instrumentals.
King Krule's notable hits and crowd favorites include "Alone, Omen 3", "Slush Puppy", "Baby Blue", "Out Getting Ribs", and "Border Line".
In a 2019 feature with Flaunt magazine, Marshall shares that "Literature, poems, songs are all very similar… It's all part of the same tapestry," talking about his lyricism and creative process. "I used to read lots of poetry and sit there for ages trying to decipher the meaning… then I found my own form of that."
Known for his honest lyrics and deliberate artistry, King Krule became a staple favorite in the indie-rock scene for his punk-jazz fusion with influences of hip-hop, darkwave, and trip-hop. He takes inspiration from the likes of Elvis Presley, Chet Baker, Fela Kuti, Billy Bragg, Pixies, The Libertines, and many more.
As Space Heavy lands a new dimension for King Krule's reign, don't miss out on the Space Heavy Tour live at Hollywood Palladium on September 25th by booking your tickets now!