Hollywood Palladium | Los Angeles, California
King Krule is back to conquer the stage! 'Man alive! With a new album "Space Heavy" set to transport audiences into his world this summer, the punk-jazz king is launching his very own Space Heavy Tour in support of the album. New dimensions of King Krule's sonic masterpieces are making their way to Hollywood Palladium on Sunday, 24th of September 2023. Preparing for Liftoff as his album launches this June 9th, he's given fans a taste of Space Heavy through his new singles "Seaforth", with a matching music video featuring adorable dogs. Sharing a "narrative of lost connection" in his new record, and hoping to find this connection live on stage with everyone in the crowd, the man's set to perform his biggest hits, fan favorites, and new music live on stage. Known for his deep stories and alluring artistry, a King Krule show will never disappoint. Launching live on stage, don't miss out on the Space Heavy Tour by booking your tickets now!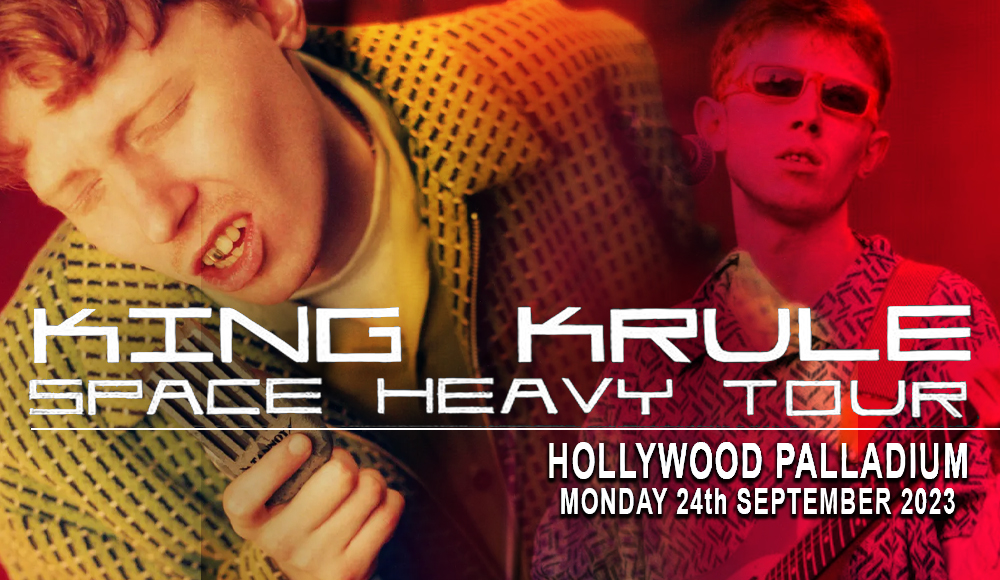 The iconic punk-jazz genre-bending master, King Krule, is preparing to launch his newest record, Space Heavy, to airwaves on June 9th. With a new single "Seaforth", the man gave fans a taste of what to expect, serving a matching music video with cute canines. Known for his honesty and deep lyrical messages, the emotional banger exudes his "exploration of the space between" in "Seaforth", a theme that the album centers on.
Produced with Dilip Harris, the album is inspired by two places he considers home, London and Liverpool. Reflecting on the commute between the two cities, King Krule deep dived into its in-betweens, reflecting on life, its highs and lows, and all the feelings intertwined. 10 years since the debut of his first album "6 Feet Beneath the Moon", King Krule's back in space, carrying a load of newfound lessons, stories, and tales packed in sonic waves.
Written during the pandemic, Archy Marshall shared that he was "fascinated by the notion of 'the space between'". With 15 tracks, the record explores a "narrative of lost connection", something we're really curious to find.
In an interview back in 2020 following the release of his EP "Man Alive!", "London is just the place I've been for 24 years," Marshall shared with Loud and Quiet. I enjoy the pace of life outside of London. I enjoy the air and the landscape… I've matured over the past year in conversation and appreciation and humanity,"
As he deeply ponders on this evident space in between, we can expect uplifting tales and heart-wrenchers as the man is definitely known for his raw honesty and punk-jazz instrumentals that send all the feels. An artist like King Krule is just hard to find and match these days. In an interview with Flaunt Magazine about his creative process, "Literature, poems, songs are all very similar… It's all part of the same tapestry," the man shared. "I used to read lots of poetry and sit there for ages trying to decipher the meaning… then I found my own form of that."
Treating songs as poetry, no wonder he's able to craft such delicate tales in an alluring sonic package. With his punk-jazz fusion taking influences from hip-hop, darkwave, and trip-hop, the man is in a league of his own. He might not be that huge mainstream pop star, but he's loved by millions for his honesty and unique artistry.
Launching new dimensions of his music and live shows, don't miss out on the Space Heavy Tour by booking your tickets now!