Hollywood Palladium | Los Angeles, California
Ladies and gentlemen, tickets are now available to see the magnificent Korn! Coming to Hollywood Palladium on Thursday 13th September 2018, this show is one of the most talked about events of the year, and you can see why! As the legendary Nu Metalers are heading out across North America for an incredible, hard hitting display! There's no time like the NOW to grab your tickets! Tell all your friends, Korn are BACK!!!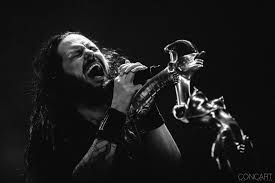 With no introduction needed, Korn are one of the biggest Metal bands to date. Their incredible music has been kicking around since their very first debut and ever since they have been smashing the rock charts and taking over globally, from the beginning stages when MTV and Rock music channels were at it's peak, during the mid 1990's and early to mid 2000's – Korn were a feature to the genre and played every single day and still are.
The current Nu Metaler members are;
Jonathan Davis
James Shaffer
Reginald Arvizu
Brian Welch
Ray Luzier
Past members
David Silveria
Some of their biggest mainstream success has been gained by their out of this world collection of albums such as; Follow the Leader (1998) and Issues (1999), both of which debuted at number one on the Billboard 200. And throughout the 2000's they continued to build on their successful career with the likes of; Untouchables (2002), Take a Look in the Mirror (2003) and See You on the Other Side (2005).
Korn, simply put, are a band that take expectations and beat audiences around the head with them. The second you think you know what they're about, they turn around and do something completely different – and it's ALWAYS amazing. Even their appearance seems somewhat cobbled together, drawing from styles as diverse as metal to funk, and indeed, Korn self-identify as a funk band – just that little bit heavier.