Hollywood Palladium | Los Angeles, California
For the second night in a row, Los Angeles natives Lany are headed to Hollywood Palladium on Saturday 27th October 2018! Entering a new musical chapter, the trio will be performing tracks from their exciting new album, Malibu Nights! A must for fans of dreamy indie-pop, this up-and-coming band are ones to watch!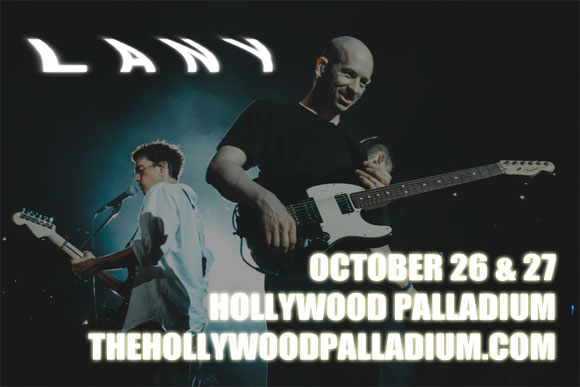 Indie pop band LANY (an acronym that stands for "Los Angeles New York") wqs formed in Los Angeles in 2014 by Paul Jason Klein (lead vocals, keyboards, piano, guitar), Charles Leslie "Les" Priest (synthesizers, keyboards, guitar, backing vocals), and Jake Clifford Goss (drums, sampling pad). The group's debut EP, Acronyms (2014), attracted significant interest, particularly online, and led to a record deal with Polydor in 2015. LANY released their debut, self-titled album on June 30, 2017, launching several popular singles. Their second studio album, Malibu Nights, is slated for a 2018 release.