Hollywood Palladium | Los Angeles, California
Get ready for the biggest metal show of the year, as thrash metal gods Metallica come to Hollywood Palladium on Sunday 12th February 2017! The iconic band will be performing the very same night at the 59th Annual Grammy Awards, so be prepared for an incredibly special show, where anything could happen! According to the band: "We have something very unique and special planned for this celebratory night." Don't miss this one-of-a-kind show!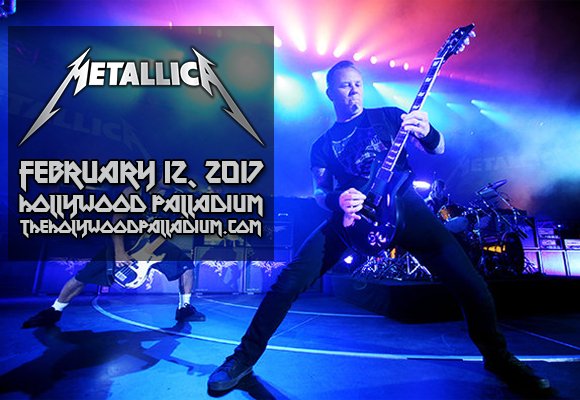 Formed in Los Angeles in 1987, by founding members James Hetfield and Lars Ulrich, American heavy metal band Metallica are seen as the founding fathers of thrash metal, alongside Anthrax, Megadeth, and Slayer as part of the "big four". The band's first four albums were well received, with Master of Puppets (1986), the band's third album, widely acknowledged as one of the heaviest and most influential thrash metal albums of all time. The band's eponymous fifth studio album helped the band break through to a more mainstream audience, and debuted at number one on the Billboard 200, as did the band's following five studio albums. To date, Metallica has released ten studio albums, four live albums, five extended plays, 26 music videos, and 37 singles. The band has won eight Grammy Awards. The band ranks as one of the most commercially successful bands of all time, having sold over 110 million records worldwide.