Hollywood Palladium | Los Angeles, California
The Japanese rock sensation, ONE OK ROCK, just released their newest single "Save Yourself", announced their soon-to-be-released new album, and a brand new tour. Catch the "Renegades" rockers to perform their much-loved hits and fresh new rocking tracks off of their upcoming album "Luxury Disease" live at Hollywood Palladium on Thursday, October 20th, 2022. Fans can expect 'no more wasted nights as ONE OK ROCK infects and electrifies the stage with Luxury Disease that'll get the audience pumped up and rocking! Don't miss out on this special night by booking those tickets now!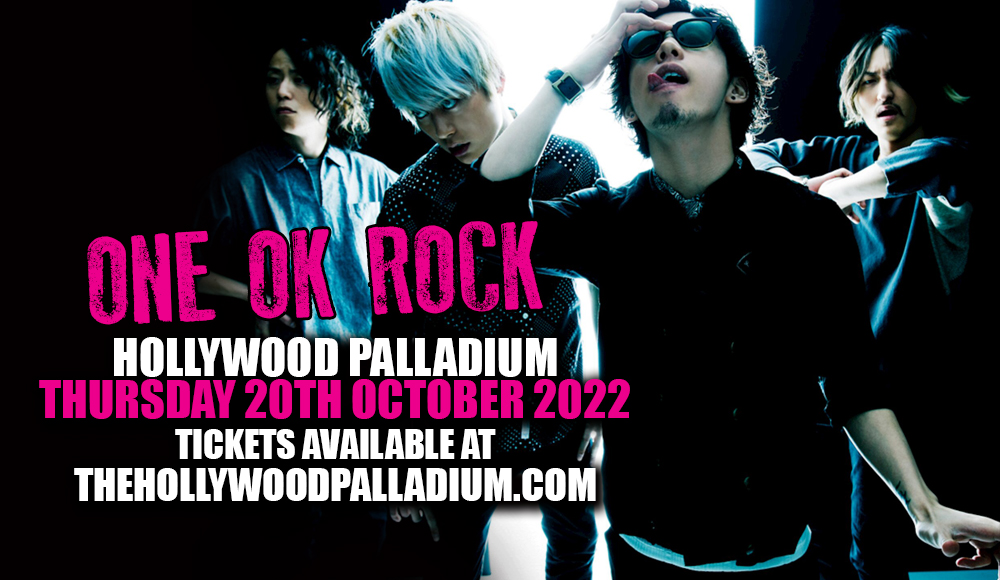 As one of the most popular rockers hailing from Japan, ONE OK ROCK has electrified the hearts of listeners across the globe through their ear-catching and energy-driving hits such as "The Beginning", "Wherever You Are", "Mighty Long Fall/Decision", "Stand Out Fit In", "Renegades", and "Wasted Nights".
The band just recently dropped their newest single "Save Yourself" off of their upcoming album Luxury Disease. Vocalist Takahiro Moriuchi sings – "Love is pain, I know too well / You've never felt waves this strong / I learned to sink or swim, but you can't even dive right in / If you're drowning in your doubt / Save yourself,"
The band is made up of lead vocalist Takahiro "Taka" Moriuchi, guitarist Toru Yamashita, bassist Ryota Kohama, and drummer Tomoya "Tomo" Kanki.
Though finding international success in recent years, ONE OK ROCK's history dates back to its formation in 2005. The band formally released their debut single "Naihishinsho" in 2007 and started to gain traction in the Japanese rock scene. From then on, after a lineup change, the band embarked on its journey to becoming one of the world's most sought-after Japanese rock acts.
ONE OK ROCK has nine studio albums released since their debut and each record served as a stepping stone into the band's growth and global domination in the rock scene. With their tenth record 'Luxury Disease' coming out on September 9th, the band is set to continue defining their own unique take on rock anthems that hit deep right into listeners' hearts.
The new album features their previously released singles "Renegades", "Broken Heart of Gold", "Wonder", and their newest yet "Save Yourself".
The rockers are set to bring their energy and signature live rock performances to the big stage at Hollywood Palladium this October 20. Get ready to witness their infectious energy that will get you right up your feet, singing and cheering your hearts out to the one and only ONE OK ROCK. Don't miss out on this big new era for the band by booking your tickets now!