Hollywood Palladium | Los Angeles, California
One of this years biggest metal tours will head straight into the fires of the Hollywood Palladium on Tuesday 9th December. Opeth, In Flames & Red Fang will team up. Two of Sweden's finest metal bands on one stage! This is big!
"We are delighted to return to North America to tour our latest album 'Pale Communion,'" says Opeth's Mikael Akerfeldt. "This will be the first of two North American Tours and the fact that we are teaming up with our old friends In Flames for this co-headline tour means that we can get to play some large venues and present our new stage show. I am also looking forward to drinking expensive whiskey with Anders on his account!"
Grab your tickets now for an incredible headlining tour from two mammoth metal bands!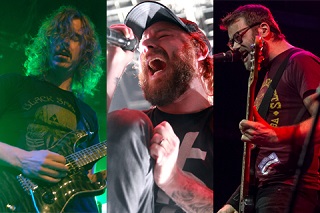 peth is a Swedish heavy metal band from Stockholm, formed in 1990. Though the group has been through several personnel changes, singer, guitarist, and songwriter Mikael Åkerfeldt has remained Opeth's driving force throughout the years. Opeth has consistently incorporated progressive, folk, blues, classical and jazz influences into their usually lengthy compositions, as well as strong influences from black metal and death metal, especially in their early works. Many songs include acoustic guitar passages and strong dynamic shifts, as well as both death growls and clean vocals. Opeth rarely made live appearances supporting their first four albums; but since conducting their first world tour after the 2001 release of Blackwater Park, they have led several major world tours.