Hollywood Palladium | Los Angeles, California
Groundbreaking techno DJ and producer Richie Hawtin brings his all-new CLOSE Tour to Hollywood Palladium on Saturday 23rd November 2019! The immersive audio-visual show "explores the relationship between human creativity and innovative technologies that enable the freedom of improvisation" and, via a camera/projection set-up, enables the audience to experience Hawtin's live creative process as never before! A thrilling event that's been years in the making, CLOSE is a music for any techo fan! Hawtin will also be supported by Italian techno torchbearer Joseph Capriati!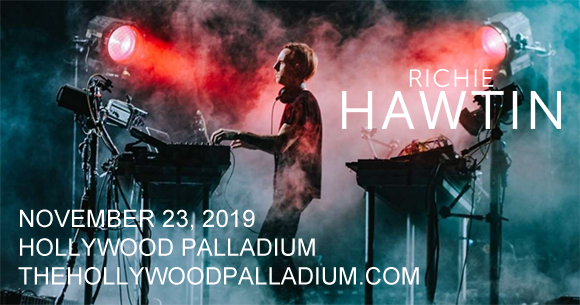 British-Canadian electronic musician and DJ Richie Hawtin made his name in the early-1990s as a pioneer of Detroit's second wave of techno, paving the way for minimal techno a few years later. In 1989, he formed the record label Plus 8 alongside fellow DJ John Acquaviva, releasing tracks under the name F.U.S.E. After his initial success, Hawtin continued to transform the techno landscape with the release of his 1999 Decks, EFX & 909 mix album (the first of a three-part series), which used effects and drum machines in an innovative way, raising the bar for techno in the future. A three-time DJ Awards winner, Hawtin is also the founder of the M-nus record label, the experimental event ENTER. (which is held at Space in Ibiza) and a technology company called PLAYdifferently, which released the MODEL 1 mixer that he co-designed with Andy Rigby-Jones. Hawtin has also released music under the monikers Plastikman, Concept 1, Forcept 1, Circuit Breaker, Robotman, Chrome, Spark, Xenon, R.H.X., Jack Master, Richard Michaels and UP!.