Hollywood Palladium | Los Angeles, California
The third installment of Monster Energy's Rock Allegiance vows to bring the audiences an awfully wicked experience of extreme music fest featuring the leading lights of Rock 'n Roll Volbeat, HIM and All That Remains. Everyone will definitely get a kick out of these unrestrained performances happening on 16th of September at the Hollywood Palladium in Los Angeles, California.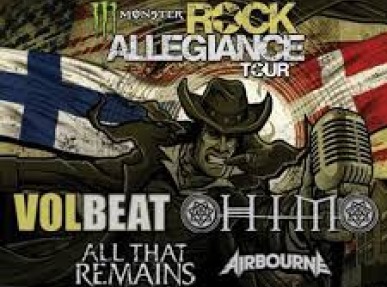 Danish metal band Volbeat who has relished the first spot on the active rock radio, released their fifth studio album "Outlaw Gentlemen & Shady Ladies last April 2013. It debuted at no. 9 on the Billboard 200 and topped the Media Control Charts in Germany. The album peaked at no. 2 on the US Billboard Top Rock Albums and no. 1 on the US Billboard Hard Rock Albums chart.
One of the best-selling music artists in Finland HIM has released their eighth studio album "Tears on Tape" in April 2013 featuring 13 tracks including "All Lips Go Blue", "Into the Night" and "No Love". The album peaked at no. 2 on the Finnish Albums chart, 1st on US Vinyl charts and 1st on US Hard Rock charts.
All That Remains has kept a strong grip in heavy metal since their debut album "This Darkened Heart" in 2005 until their 6th "A War You Cannot Win" in 2012. The latter includes the single "What If I Was Nothing?" which peaked at no. 1 on the US Mainstream Rock charts.
The finest rock bands from three different countries come together for a one big party. This is such a rare event! Get your tickets!