Hollywood Palladium | Los Angeles, California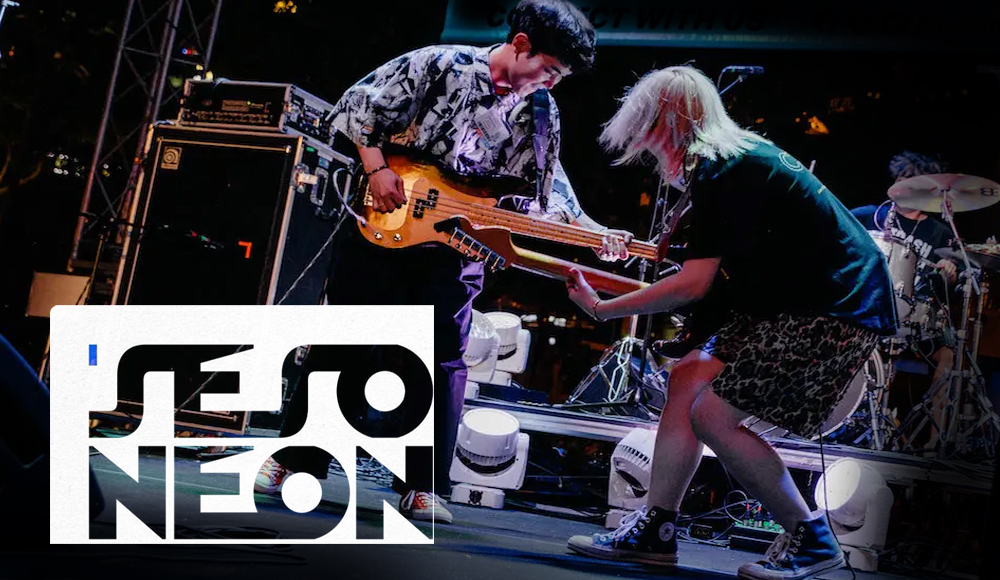 Get ready for a neon-filled night at the Hollywood Palladium! One of South Korea's amazingly talented K-Indie acts is flying across the globe for a special tour trek. SE SO NEON is coming to you live in LA on September 18th this year. Amidst a colorful sea of Korean pop acts electrifying sonic airwaves, the indie-rock band is a gem that never fails to rock it all out. Taking the world by storm in 2017 with their debut record "Summer Plumage", they've amassed a following for their unique sound, heard through their hard-hitters "A Long Dream", "The Wave", "Gurumi", "Jayu", "Nan Chun", and many more. Just recently, its frontrunner So!Yo!ON! dropped her new solo album featuring a track in collaboration with BTS' RM. Sharing a rockin' record around the globe, she's set to share neon nights at SE SO NEON's live comeback. Don't miss out by booking your tickets now!
Amidst an electric sea of colorful K-Pop acts dominating the global stage, South Korea's very own indie scene is a promising gem, waiting to be picked up by more listeners. With a slew of neon lights shining at every beat, SE SO NEON is definitely one of the finest indie acts to make it big in our books!
Taking the world by surprise since the release of their debut record "Summer Plumage" in 2017, it all started with "The Wave". Since then, they've made big waves across the world for their unique sound and artistry in every release. This time around, the rock duo is flying across the world on their newest tour, hopping across the US, Canada, and Mexico. "Ready to set sail on SE SO NEON's pirate ship?" the band tweeted.
One thing's for sure, it's gonna be a wild ride! Known for their all-out production, effects, sound, and production, their live stage comeback is definitely a promising moment in their careers. Though word of a new record is yet to be heard, nothing beats witnessing a SE SO NEON show on the live stage.
Recently, the band's frontwoman, So!Yo!ON!, dropped her newest solo album, "Episode 1: Love". If you're also a BTS fan, you probably know this very well. Its single "Smoke Sprite" features RM, serving visuals that take the artists between dreams and reality, an overdose of the feels!
"I wasn't particularly focused on it being a same-sex relationship, [but] I knew that gender shouldn't hold importance when representing love," she shared about the record.
Like gender and love, SE SO NEON's artistry can be likened to a spectrum. Every track is a sonic surprise, making fans crave for more. Their biggest hits and crowd favorites include "Jayu", "Joke", "Long Dream", "Cat", and "Nan Chun". Their 2nd EP "Nonadaptation" was raved with acclaim from fans and critics alike, with Pitchfork including it in their list of "The 35 Best Rock Albums of 2020". Slay!
With its name inspired by its new identity as rookies in the scene, SE SO NEON surely remains humble and true to its core, making music by the heart. What once was a small speck in the dust became a shining crystal of South Korea's beautiful K-Indie scene.
We've got a fun fact! You probably know that you, their fans, are called "KDG"... Well, this translates to "booger" in Korean (코딱지). "When we started the band I made up my mind that 'no matter how big I become, I'm just a booger'," So!YoON! shared with NME. "I wanted to remember that I'm just a speck in the universe. I wanted to remind myself to always be humble."
She further shares that ya'll are boogers too! "I'm kind of regretting it but we've already used that word for too long," she added. In a massively sonic world, SE SO NEON and their KDGs are a family of boogers. C'mon it's not that disgusting, it's cute!
So, as SE SO NEON makes its live stage comeback, don't miss out by booking your tickets now!