Hollywood Palladium | Los Angeles, California
Iconic punk rockers Sleater-Kinney have recently announced that they'll be releasing a brand new studio album this year (their first since 2015's No Cities to Love), which will be produced by the incredible St Vincent! Celebrating the release of the LP, which is called The Center Won't Hold, the three-piece comes to Hollywood Palladium on Thursday 14th November 2019!
"We always planned on getting back in the studio—it was just a matter of when," Carrie Brownstein told NPR earlier this year. "If there is an overarching principle to this album, it's that the tools on which we were relying proved inadequate. So we sought new ones, both metaphorically and literally."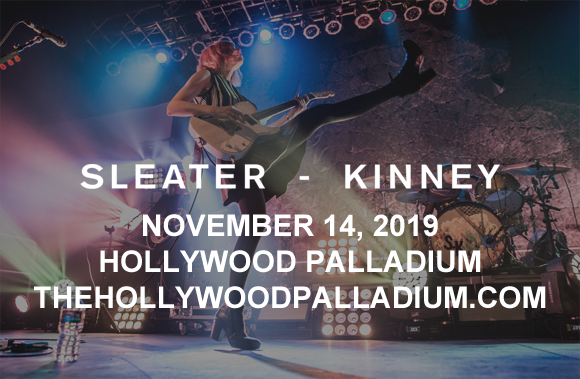 American indie rock band Sleater-Kinney rose to prominence as part of the riot grrrl movement of the 1990s. Formed in 1994 by by Corin Tucker and Carrie Brownstein, the now three-piece (Janet Weiss of Quasi is the band's current and longest-lasting drummer) group is known for its feminist politics and song lyrics. Making its debut in 1995 with a self-titled debut album, Sleater-Kinney released 7 studio albums between 1994 and 2005, before disbanding in 2006, and have been considered by many critics to be one of the most important rock bands of the early 2000s. The group reunited in 2014 and has since released No Cities to Love (2015) and Live in Paris (2017). A new album will be released in 2019, produced by St Vincent/Annie Clark.