Hollywood Palladium | Los Angeles, California
Get ready for a hot summer night of the perfect tunes at the Hollywood Palladium Saturday, August 12 with Summer Sauce!! Featuring Alan Walker, Kungs, Lost Kings, Two Friends and Bit Funk, this is an all-star lineup you simply can't miss! Don't delay as tickets will sell out fast – hit the "Buy Tickets," button to grab your place NOW!!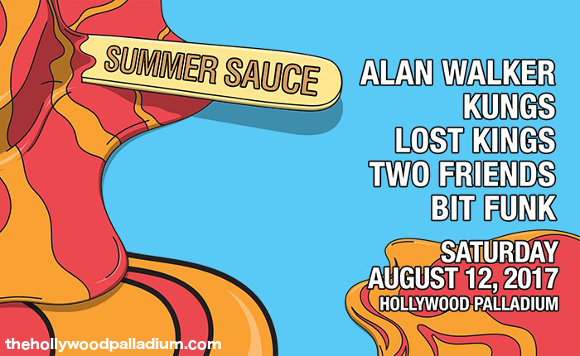 18-year old Norwegian producer Alan Walker burst onto the worldwide music scene as one of the most popular DJs of 2016. His smash hit single, "Faded" has today reached 3.8 million sold units worldwide since its release in December 2015.
From playing on a djembe at the age of five to spending afternoons listening to rock 'n roll classics with his father, Valentin Brunel AKA Kungs developed his passion for music at an early age. By the age of seventeen, he was creating melodies using his own instruments, and quickly found attention for his remixes of Bob Marley's "Jammin" and Lana Del Rey's "West Coast".
Also playing are the Lost Kings, who draw comparisons to Karl Malone and Jon Stockton, Two Friends, gaining fame for their remixes of "Trap Queen", "I Miss You" and "Cool", and Bit Funk, who has remixed for the likes of Seven Lions, Christina Perri, Viceroy, Treasure Fingers, and GRUM to name a few!!

Don't miss out on your chance to hear these fantastic DJ's and producers live – its going to be a party you will never forget!! Grab your tickets to Summer Sauce TODAY!!