Hollywood Palladium | Los Angeles, California
All systems go for this highly anticipated screamo concert as alternative-emo vanguard Taking Back Sunday is taking centerstage at the Hollywood Palladium on Friday 27th February 2015. The band is guaranteed to dish out their massive hits before a battalion of their most rabid and loyal fans. Plus, get an extra special treat from amusing numbers from fellow alternative rockers Letlive & The Menzingers. You wouldn't want to miss out on this jam-packed and wildly exciting music fest, would you? Get hold of those tickets a.s.a.p.!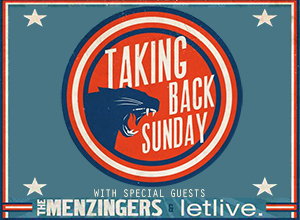 The Long Island rock scene takes pride in one of its emo-rock-alternative vanguards– Taking Back Sunday. Founded in 1999 by guitarist Eddie Reyes, the band's current line-up include: Adam Lazzara (lead vocals), John Nolan (rhythm guitar, vocals), Eddie Reyes (lead guitar), Shaun Cooper (bass guitar, backing vocals) and Mark O'Connell (drums).
Taking Back Sunday broke into the mainstream audience in 2006 with the release of the album "Louder Now". It churned out one of their biggest signature hits "MakeDamnSure." With sales of over 900,000 copies, it reached its peak position of #2 at the US Billboard 200 charts. The band is currently in the midst of a massive tour in support for their lastest outing "Happiness Is".
Taking Back Sunday is a lightning bolt, personified. Dynamic. Electric. Intense. If you're up for a jolt of high-voltage emo-rock-post-punk music, this show is definitely worth your blood, sweat, and tears!