Hollywood Palladium | Los Angeles, California
The husband-and-wife-led band that never fails to bring in the groove driven by throwback elements, Tennis, is dropping a big surprise as they gear up for the release of their sixth studio album "Pollen" on February 2023. With a big new album up their sleeves, Tennis just announced a North American tour in support of the new record, with a stop at Hollywood Palladium on Friday, 28th of April 2023. Sharing its lead single "One Night with the Valet", Tennis gives a glimpse of the band's next-level sonic direction in store for the new album. Don't miss out on Tennis' big new era by booking your tickets now!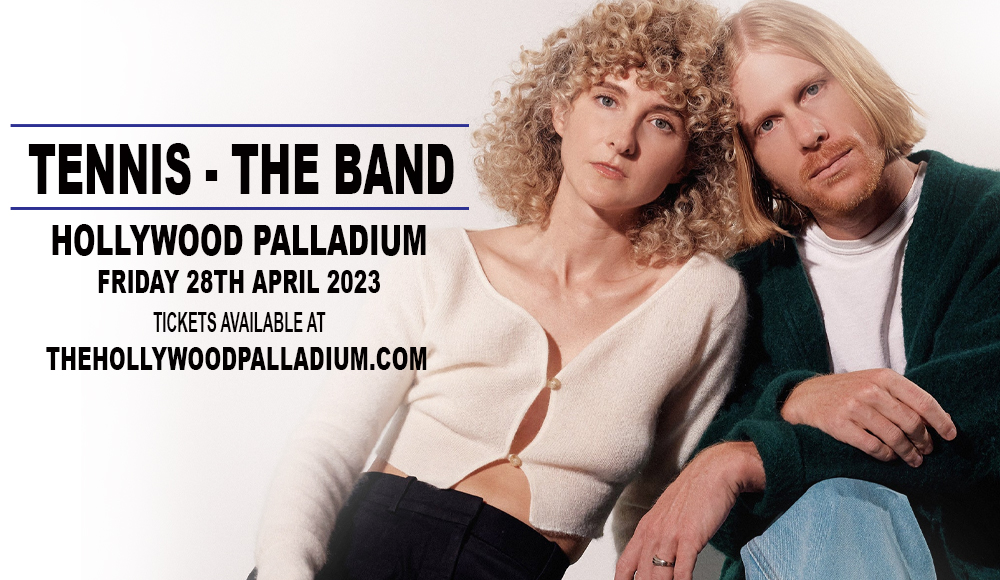 American indie husband-and-wife act, Tennis, is taking their band on a North American tour in support of their soon-to-be-released 6th studio album "Pollen". Hitting the shelves this coming February, Tennis gave fans a taste of the new record through its lead single "One Night with the Valet". Sharing their desire to release an album showing their growth as artists, "We wanted to write a big album," shared Moore in a statement. "Instead of choruses with universal themes, I write with a specificity that is new to me, narrowing in on the smallest details of our lives," she added.
Known for infusing '50s pop with tones of '70s-inspired soft rock elements, Tennis is an act hailed for its authenticity and dreamy atmosphere in every track. Since their 2010 debut with their "Baltimore" EP and debut album "Cape Dory" released in 2011 inspired by a sailing trip, Tennis has made waves in the indie scene.
Tennis' succeeding records have amassed a number of hits and fan favorites including "Need Your Love", "Borrowed Time", "In The Morning I'll Be Better", and "Origins".
On a mission to grow as artists and share authentic masterpieces right from their hearts to the world, "Pollen" is a record that the couple-duo is excited for their fans to hear and appreciate their steps in exploring new things.
"To keep ourselves from falling into old habits, we used instruments and gear that are new to us," Moore shared in a statement. "Unlike previous albums which have been more wall of sound, we make a point not to overpower my voice with a dense mix."
"We named the album Pollen. It is about small things with big consequences," Moore added. "It is about the way I can be undone by a very small thing."
Gearing up for the big release, and their North American Tour, Tennis is set to welcome 2023 with open arms, as they continue sharing their passion and love for their craft with their fans. Don't miss out on Tennis' big new era by booking your tickets now!