Hollywood Palladium | Los Angeles, California
Hot off the heels of an album that debuted at #1 on Billboard 200, LeCrae recently announced that the 'Anomaly Tour' is coming to a city near you! And yes, the Hollywood Palladium is on the map as one of the key concert destinations of today's hottest Christian Rap hitmaker. Mark your calendars, LeCrae is Hollywood bound on Sunday 12th October 2014.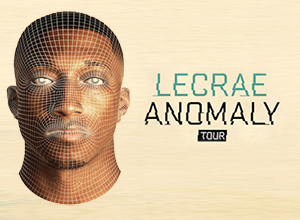 Christian music and rap and hip-hop may taste like bitter medicine for some; but LeCrae has somehow turned water into wine, making the unlikely combination a sweet yet potent concoction. He released his debut album,"Real Talk" in 2004 under his own label Reach Records, where he sits as president, co-owner and co-founder of this indie label. His name and his music is synonymous to 'breakthrough' — breaking barriers and crossing over to rap and hip and hop audiences and places where it is unlikely or even unimaginable for Christian music to be heard and appreciated. In 2008, his third album "Rebel" was the first Christian hip hop album to peak at #1 on Billboard Gospel chart. In 2012, his first mixtape release "Church Clothes" was downloaded 10,000 times in a span of less than 48 hours. With its inclusion in LeCrae's sixth studio album "Gravity", the album was touted as one of the most significant releases in Christian hip hop history — debuting at #1 on the overall iTunes chart, charting at #3 on Billboard 200, winning Best Gospel album in the 2014 Grammy Awards, making him LeCrae the first Christian hip hop artist to receive such an award.
Word is out! You've got to hear. You've got to see. You've got to believe. LeCrae's Anomaly tour is a must. Definitely a hot-seller. You've got to get your tickets now!