Hollywood Palladium | Los Angeles, California
The Drums (aka Jonny Pierce) comes to Hollywood Palladium on Saturday 27th July 2019! Bringing deep-yet-upbeat synth-rock to the stage, Pierce is touring to promote The Drums' fifth studio album, Brutalism! According to the singer-songwriter, this album continues the jolly, electro-surf sound of previous records, whilst delving into some of Pierce's darker feelings:
"I was exhausted, depleted and sabotaging myself, partying so much but in reality running away from pain," says Pierce. "It was a downward spiral. It was do or die. I don't think I'll ever really find myself. I don't think people do. I don't think there's a day that you wake up and you go, 'Now I know who I am.' The best way for me to be an artist is by taking a goddamn minute, being still and listening to what it is that I want and need."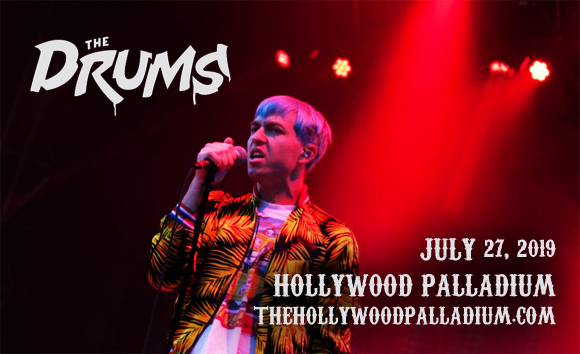 New York-based indie-pop band The Drums was formed by childhood friends Jonathan (Jonny) Pierce and Jacob Graham in 2008 as the evolution of a short-lived electro-pop group the pair had previously formed, named Goat Explosion. The following year, the duo became a four-piece and they released their self-titled debut album in 2010 to critical acclaim. The band released two more albums together (2011's Portamento and 2014's Encyclopedia) to further acclaim. In 2017, Jonny Pierce became The Drums' only official member, releasing the album Abysmal Thoughts, which he had written and produced by himself. The Drums' fifth studio album, Brutalism, is due for release in 2019.