Hollywood Palladium | Los Angeles, California
The Used & Taking Back Sunday comes to Hollywood Palladium on Thursday 27th March 2014
They're hitting the road for a full blown North American Tour, and coming along for the ride are Tonight Alive and Sleepwave. Hop on and don't miss the bus!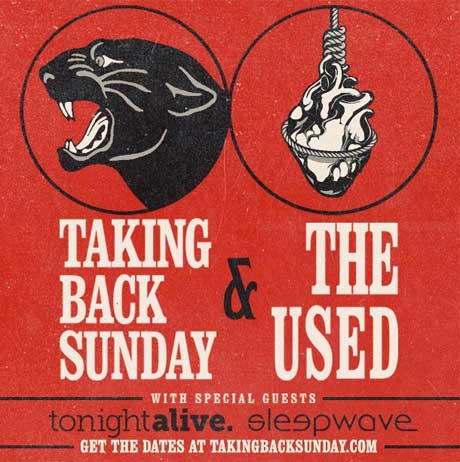 Call them emo-screamo. Call them post-hardcore. But no label could ever aptly describe the hard-rocking intensity of their live performances. Expect not one but two very solid fan bases of these bands will be going on a rampage for tickets; so score yourself one, now!
The Used are originally from Orem, Utah. Lead vocalist and keyboardist Bert McCracken, guitarist Quinn Allman and bassist Jeph Howard are the original founding members in 2001; and current drummer
Dan Whitesides stepped-in in 2006. Their self-titled debut album released in 2002 rocket-launched their career. The Used acheived worldwide fame, earning them gold and platinum albums in more than six countries, selling 3 million plus copies worldwide.
Formed in 1991, Taking Back Sunday has gone a long way since their days as a fledgling band from Amityville, New York. Current members of the band are Adam Lazzara (lead vocals), John Nolan (lead guitar, back-up vocals), Eddie Reyes (rhythm guitar), Shaun Cooper (bass guitar) and Mark O'Connell (drums). They are now filling up stadiums and playing world stages. Now on their 6th studio album release, Taking Back Sunday has definitely carved for themselves a rock solid reputation as one of the most intense rock acts of this generation.