Hollywood Palladium | Los Angeles, California
Are you ready for the baddest night of rap and hip-hop you've ever been to? Then you're in luck, because the infamous Wu Tang Clan are coming to the Hollywood Palladium on Thursday the 23rd March!! The NYC born, 9-piece strong, hardcore hip-hop team will blow your mind. Hit the "Buy Tickets," button above and get ready for a wild ride!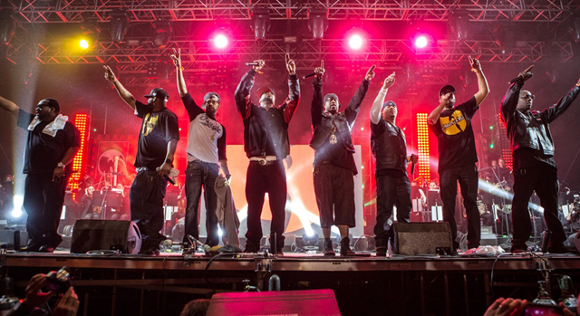 The Wu-Tang Clan are a supergroup in reverse. Rather than finding success individually and then banding together, the separate MC's banded together and rocked everyone's socks with their mind-blowing first album – giving them the attention needed for every group member to find success in their solo career, and making the Wu-Tang Clan nothing less than the supergroup to end all supergroups. With the talents of Ghostface Killah, Method Man, Raekwon, Inspectah Deck, U-God, Masta Killa, RZA, and GZA, and, previously, Ol' Dirty Bastard, its not in any way surprising that their very first release together, "Enter the Wu-Tang (36 Chambers)", is considered to be a flagship album, and one of the most important releases in the history of hip-hop! Everything about them is unique and especially their sound. With their innovative use of ominous piano riffs, hardcore rhythms and minimalist samples, they really stood out against the crowd in the mid 90s. Since the incredible success of their debut, they've gone on to release seven more gold and platinum-certified albums as a collective, selling more than 40 million albums since 1992!
Don't miss out on your chance to see this 9 piece icon in hip-hop history in the flesh. Get your tickets NOW!!