Hollywood Palladium | Los Angeles, California
It's time for a 'wake-up call as rising American rapper and record producer Yeat is set to kick off a new 2023 North American Tour. The Gen Z-favorite rapper recently released his sophomore album "2 Alive" and a follow-up EP "Lyfë". With newfound success, he's set to raise the bar as he throws in big surprises this 2023. Yeat's North American Tour will take a stop at Hollywood Palladium on Sunday, 9th of April 2023. Don't miss out as the "Rich Minion" and "Talk" rapper serves his sick bars and unique beats live on stage by booking those tickets now!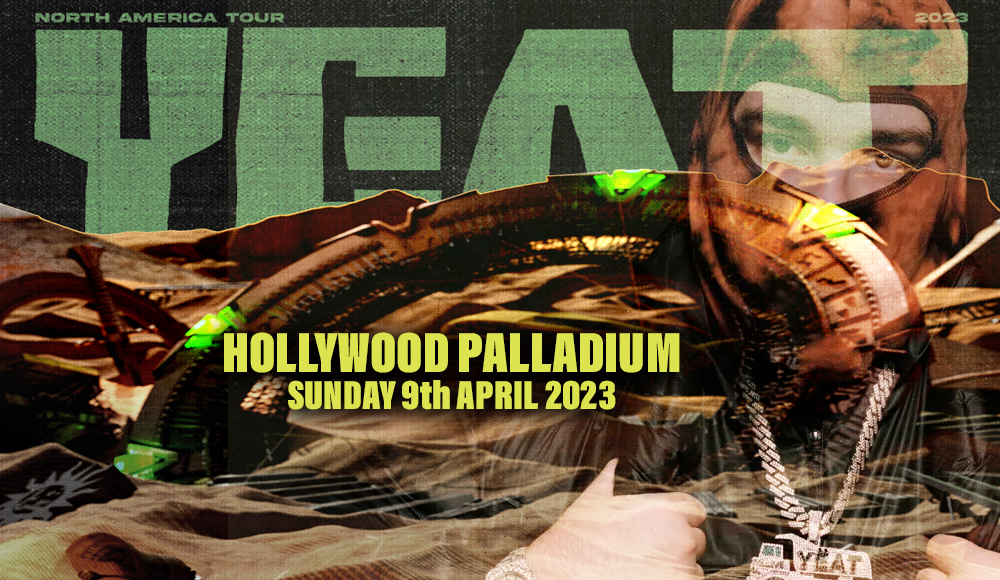 Sensational Gen Z rapper Yeat just announced his North American Tour in support of his hit EP "Lyfë". The L.A.-based rapper is taking his viral hits and unique auto-tune-infused bars to the big stage on his newest tour trek. Crashing into the scene for his viral TikTok hits, Pitchfork wrote ""Cutting his teeth in the influential online rap collective Slayworld over the last few years, Yeat was always a little stranger than his peers, and consequently cast as a minor figure. But in 2021, his surrealist bent became his superpower."
Yeat started gaining massive attention across the interwebs for his 4L mixtape which includes his viral hits "Sorry Bout That" and "Money Twërk". His next releases "Mad Bout That" and "Fukit" also gained traction, along with his teaser track "Gët Busy" which became viral, as fans clamored for its full release. The track served "this song already was turnt but here's a bell", and then ringing church bells. The viral line would also be referenced by rappers Drake and Lil Yachty.
In September of 2021, Yeat finally dropped his full-lenght debut LP "Up 2 Më". As 2022 came, Yeat released another big project, his second record "2 Alivë", under a new label. The album debuted at #6 on the Billboard 200 with its hit single "Still Countin". In September, he released a new EP "Lyfë", landing at #10 on the Billboard 200. The record featured his hit single "Talk".
Launching an extensive North American Tour, Yeat also announced his next project "Aftërlyfe", teasing a February release. Rumours show that Lil Uzi Vert, Ken Carson, and Destroy Lonely will feature on the new record. Hailed as a rap rookie, Yeat's rise to fame is one that took a generation by surprise.
As mysterious as he is, Yeat's music definitely speaks for itself. Don't miss out on the rising legend's North American Tour with big surprises unfolding as "Aftërlyfe" drops real soon. Book those tickets now!